September 30, 2014
Carnegie Mellon's School of Drama Presents August Wilson's "Seven Guitars," Directed by Cameron Knight
Contacts:
Erin Keane Scott / School of Drama / 412-268-2068 /
ekscott@andrew.cmu.edu
                Pam Wigley / College of Fine Arts / 412-268-1047 /
pwigley@andrew.cmu.edu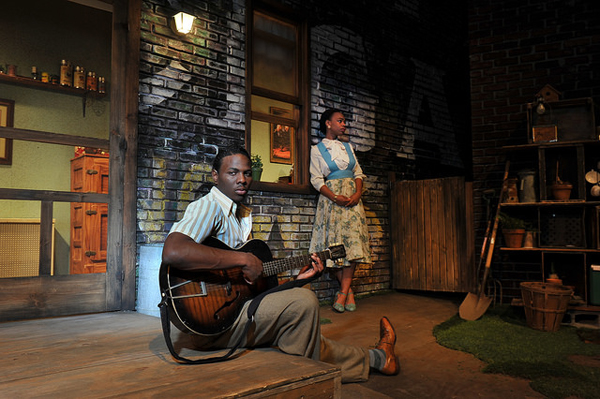 PITTSBURGH—Carnegie Mellon University's
School of Drama
will open its 2014-2015 season at 8 p.m., Thursday, Oct. 2, with August Wilson's "Seven Guitars," directed by Assistant Professor of Acting Cameron Knight. It runs through Oct. 11.
"We are honored to bring August Wilson back home to a Pittsburgh stage as the opener of our first season of our next 100 years of theatrical innovation and education," said Peter Cooke, head of the School of Drama. "It is an incredible opportunity for our students, and we are thrilled to highlight Cameron Knight as a director."  
August Wilson, the Pittsburgh-born, Pulitzer prize-winning playwright known as "the American Shakespeare," brings the 1940s Hill District back to life in "Seven Guitars." While making sense of a young blues musician's untimely murder, seven friends improvise a symphony that celebrates their lives together, riffing on their hopes, dreams and struggles.  
"Seven Guitars" is a poignant portrait of Wilson's mother's backyard, and of the Hill District in its cultural prime.  
"August Wilson unapologetically tells it like it was for blacks in the Hill District in 1948," Knight said. "As you listen to the stories in 'Seven Guitars,' it is easy to draw parallels to the hope, despair and racial tension that is present in America today. The play continues to resonate with its unflinching examination of racism.
"Today, black men and women continue to fight for their dreams in the face of similar racial profiling and constant threats to their well-being," Knight continued. "August Wilson, our 'American Shakespeare,' brings the day-to-day triumphs and tribulations of the black experience to life through gorgeous poetry celebrating the Hill District."
Knight said the play illustrates the Hill District's vibrancy when it was at its cultural height, "before the City of Pittsburgh plowed through the Lower Hill." From this historical perspective, he said, "we can look at the Hill District we know now in a new light and consider how we got here."
To purchase tickets, call the box office at 412-268-2407 between noon and 5 p.m., Monday through Friday, or visit http://www.drama.cmu.edu/50/box-office. Performances will take place in the Philip Chosky Theater at CMU's Purnell Center for the Arts. For general information about the School of Drama, visit
http://www.drama.cmu.edu
.
Editor's Note:
On Tuesday, Oct. 7, student dramaturg Rachel Abrams will host a talkback with the audience, cast and crew after the performance explaining the play's background and commenting on the research and development of the story line. The dramaturgs also are available to discuss the plays with classes, student groups and public organizations. Contact Wendy Arons, dramaturgy option coordinator, at
warons@andrew.cmu.edu
to schedule a session with a dramaturg.       
###
Photo Above: Senior acting students Mitchell Edward and Johari Mackey play Floyd and Vera, respectively, in "Seven Guitars."  Photo credit: Louis Stein