September 22, 2014
Carnegie Mellon Researchers Alter Cancer Cells To Stop Them From Metastasizing
Contact: Sherry Stokes / 412-268-5976 / stokes@cmu.edu


PITTSBURGH—Carnegie Mellon University engineers have demonstrated that they can prevent cancer cells from metastasizing by altering the cells' mechanical behavior.
In a collaborative project with researchers from Pennsylvania State University, a protein that is associated with normal and premature aging was introduced into melanoma cells. This caused the cells' nuclei to artificially stiffen and prevented metastasis (pictured below). Results from this research were recently published in the journal Cellular and Molecular Bioengineering.
Project leader Kris Dahl (right), associate professor of biomedical and chemical engineering at Carnegie Mellon, said, "Cancer is a mechanical disease. Cancer cells have different mechanics than other cells in the body. We were able to alter the mechanics to reduce cancer evasion."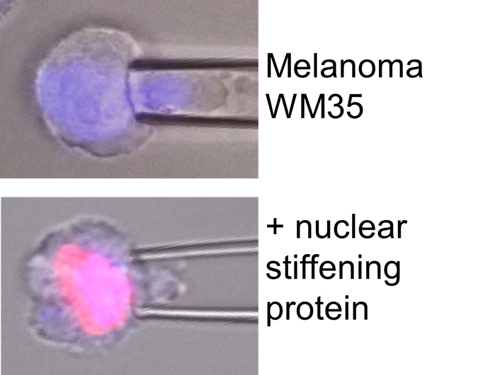 Her research suggests that mechanical factors may be considered targets for cancer therapies, in addition to biological targets that are currently treated with pharmaceuticals. The research also provides insight on how body cells change as people age. Understanding this process may someday allow researchers to thwart problems associated with aging in addition to preventing cancer metastasis.
Dahl, an expert on progeria — the disease in which children age prematurely — is closely associated with the Center for the Mechanics and Engineering of Cellular Systems at Carnegie Mellon. Researchers in the center manipulate mechanical interactions in biological systems to help prevent and treat cancer, birth defects and abnormal aging.
The National Institutes of Health and the National Science Foundation funded this project.
###