September 18, 2014
Carnegie Mellon's Miller Gallery Opens New Section of Pittsburgh Biennial
Contact: Pam Wigley / 412-889-6238 / pwigley@andrew.cmu.edu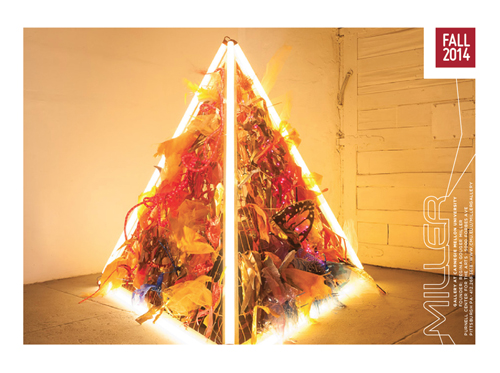 PITTSBURGH—The Miller Gallery at Carnegie Mellon University debuts a new section of the 2014 Pittsburgh Biennial, Sept. 20 - Nov. 30, featuring eight artists and cultural producers living in or connected to Pittsburgh, and three featured presentations including new works in sculpture, painting, sound, performance and video. An opening reception will take place from 6 to 8 p.m., Friday, Sept. 19, at the Miller Gallery, preceded by a walking tour of the exhibition with curator Casey Droege and the exhibiting artists. The reception is free and open to the public.
"I'm thrilled to participate in the Biennial, an event that opens up the whole city to contemporary art. And I can't wait for Pittsburgh to see the treasures we've got buried in our hills," Droege said. "Pittsburgh has always been an affordable haven for artists, even before The New York Times made it official. My self-employed artist parents chose to raise me here for that very reason and now I'm determined to make it a more sustainable place for artists. Not just a place with cheap houses, but one with resources, support and conversation."
This is the Miller Gallery's second opportunity to participate in the Biennial, a collaborative city-wide project presented in part by the gallery and the Pittsburgh Center for the Arts in partnership with the Andy Warhol Museum, the Carnegie Museum of Art, the Mattress Factory, the Pittsburgh Cultural Trust's SPACE Gallery, Pittsburgh Filmmakers and the Pittsburgh Glass Center.
The Biennial celebrates the region's most compelling artists, as well as the city's unique visual arts landscape. Through a partnership with seven of the city's leading visual arts organizations, the Pittsburgh Biennial showcases a cross section of the diverse, fresh-faced and multifaceted artists who have close connections to Pittsburgh.
The Miller Gallery's exhibition features an eclectic group of artists who have collected and reconfigured the data and debris of today's world to produce works with a fresh perspective. Throughout the exhibition, a rotating roster of presentations will showcase innovative experiments in dance, social practice, performance and more.
For more information, additional events, high-resolution images available for download, and interviews with the curator and artists, visit bit.ly/PGHBiennial_MG.

About the Curator

Casey Droege was raised by two artists and a mime. Their incessant side hustles, ranging from chimney sweep to insurance sales, created the time management monster/slightly organized tornado that is Casey.  She received her bachelor's degree in fine arts from the School of the Art Institute of Chicago and her master's degree in fine arts from Cranbrook Academy of Art. And while her mother made it clear to her that she should go into computers, she now lives and works as a creative hustler in Pittsburgh. Her practice, including studio work and cultural events, can be seen at www.caseywhat.com.

About the Artists

Edith Abeyta is a visual artist living in North Braddock, Pa. She combines post-consumer goods, particularly clothing, and participatory gestures to form temporary installations and sculptures that explore collectivity, labor and exchange. She frequently collaborates with other visual artists, poets, scholars and the public. For this exhibition she will be working in collaboration with performance artist Michael Lewis Miller (Los Angeles). Abeyta and Miller will create a new series of sculptural objects and wearables that caricaturize our consumption of natural resources using her archive of discarded clothing and his past life as a geologist.

Gavin Benjamin was born in South America and currently lives in Pittsburgh. His multi-faceted background includes commercial photography, painting, audio works, printmaking, interior design and product design, and creating theatre sets and backdrops. His work combines the old masters' sense of light with present-day imagery in the form of photographs and wall coverings. For the Biennial, Benjamin will create imagery and atmosphere for a listening room, a collaborative project with David Bernabo.  

David Bernabo, a native of Pittsburgh, has been a fixture on the music and art scenes for the past 11 years. Bernabo is a multi-disciplinary artist and curator, interested in drawing connections between the worlds of music, dance and the visual arts. Bernabo will curate a selection of sound pieces from Pittsburgh artists for the listening room, a collaborative project with Gavin Benjamin. Bernabo will also create a new installation of video and objects in the scope of his broad and varied studio practice. As part of Bernabo's installation, there will be a special one-night presentation of the Lightlab Performance Series. Lightlab is co-curated by David Bernabo and Taylor Knight and is dedicated to presenting new dance pieces.

Drew Droege (Los Angeles) is a comedian, writer and director. He has become known for his scathingly funny and uncanny caricatures of actress Chloe Sevigny, which poke fun at our obsession with celebrity culture, fashion aficionados and the endless quest for the new black. For the exhibition, Droege will interpret "Chloe Sevigny's Pittsburgh" from Marie Claire Magazine earlier this year.

Alexis Gideon has spent years creating his Video Musics series, for each composing an epic ballad, collaborating on animation and traveling the world to perform it. These multimedia pieces explore traditional folklore and highlight his talents as a composer and entertainer. His stunning performances and eerie imagery have made his transition from the music world to the art world successful. Gideon's Video Musics III will be on view, alongside objects from the creation process. He will also give a live performance of the piece.

Ulric Joseph, a native of Trinidad and Tobago, is a recent transplant to Pittsburgh.  His recent body of work returns to glitzy carnival influences, implementing social commentary as a way of placing the spotlight on issues of racism, stereotyping, greed and the adjustment to American culture. Joseph will unveil work made in the last two years, including a series of family portraits.

Jessica Langley, (New York, N.Y.) a former Pittsburgh resident, will return to show a new iteration of her "Flat Screen" animations. Langley's work draws from idealized nature photography and cultural symbols of the sublime, abstracting and obscuring her images through a variety of processes, resulting in painting, collage and animation. Her bright colors and sometimes kitsch-inspired imagery bridges the gap between the natural and the digital world, accentuating our own environmental fears and hyper-real guilt.

Janks Archive, a collaborative project comprised of Jerstin Crosby, CMU alumnus Ben Kinsley (MFA'08) and Jessica Langley will build upon an ongoing collection of put-down jokes from people from all over the world. The group collects a wide variety of culturally and geographically specific quips, giving us a glimpse into the universal need for insulting humor. They are driven by a curiosity about the revealing and insightful universality of humor, particularly the way oral histories are spread through a shared joke. Seemingly negative and rarely politically correct, this naughty side of human activity has been present around the world for hundreds of years and provides us insight into a time and place. The team will collect and feature Pittsburgh's finest jokes for the archive, which will be on view for the first two weeks of the exhibition.

Celeste Neuhaus will showcase new and old work in the form of video, sculpture and assemblages. Neuhaus investigates our ever-changing conceptualization of the universe and its forces, from alchemy to astrophysics. With the compulsion to create cosmos (order) out of chaos, she constructs symmetrical geometric forms from the remains of modern day rituals, using materials that have been purchased, consumed and discarded in conjunction with natural objects. Her work reveals the archetypal beneath the mundane and discloses the mysterious within the familiar.

###
The Miller Gallery's exhibition features an eclectic group of artists who have collected and reconfigured the data and debris of today's world to produce works with a fresh perspective. Throughout the exhibition, a rotating roster of presentations will showcase innovative experiments in dance, social practice, performance and more.
Miller Gallery at Carnegie Mellon University (http://www.cmu.edu/millergallery) supports the creation, understanding and growth of contemporary art through exhibitions, projects, lectures, events and publications. The gallery aspires to engage diverse audiences and to create and strengthen communities through art and ideas. The Miller Gallery is the contemporary art gallery of Carnegie Mellon University and is a unit of the College of Fine Arts. It is located in the Purnell Center for the Arts on Carnegie Mellon's campus in Pittsburgh, Pa. The Miller Gallery is open to the public from 12 - 6 p.m., Tuesday through Sunday. Admission is free.