September 18, 2014
Carnegie Mellon To Host Shirley Brice Heath for Lecture on Benefits of "Meandered Learning"
Contact:
Shilo Rea / 412-268-6094 /
shilo@cmu.edu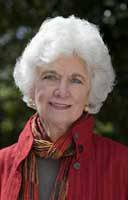 Event:
Carnegie Mellon University will host Stanford University's
Shirley Brice Heath
(right) for a lecture on "Learning Language the Meandering Way: Three Instances To Ponder."
Heath, who received an honorary doctorate of humane letters from Carnegie Mellon in 1999, has pioneered research on learning environments that appear to have little in common, such as children's play, everyday project work, science laboratories, rehearsal zones and studios of art. As a linguistic anthropologist, she has spent extensive time in these environments recording language and uses of props and gestures. Her work argues that ways of learning across these settings draw language development and artful thinking together toward what often evolves into thinking like a scientist.
In her talk at CMU, Heath will explore how since numerous aspects of life impose order, "meandering" or "mucking about" is typically discouraged. She will draw on recent neuroscience research that shows that is not necessarily the case, especially for those learning languages. Heath will explain those instances and make the case for "meandered learning" across the life span, from seven months to 70 years old.
Mariana Achugar
, associate professor of Hispanic Studies and Second Language Acquisition in the
Dietrich College of Humanities and Social Sciences
, believes Heath's work can be of interest to educators, researchers of language and learning as well as policymakers.
"Education reform has focused on academic achievement, limiting the opportunities to engage in social play and structured types of creative work through the arts and hands-on science projects," Achugar said. "Heath reminds us of the importance of learning in everyday situations and why these experiences can be particularly important for children growing up in impoverished communities. Her work demonstrates the importance of socialization experiences in families and communities that enable children to develop particular ways of using language to create, imagine and acquire expertise in tasks that require guidance, critique and hypothetical thinking."
Heath's lecture is part of Carnegie Mellon's University Lecture Series and is sponsored in part by the
Department of Modern Languages.
When:
4:30 p.m., Monday, Oct. 6
Where:
Porter Hall 100, Carnegie Mellon University
Cost:
Free and open to the public
###