September 18, 2014
"Leningrad": Carnegie Mellon Presents the Trauma of War and Art
Returning Visiting Professor To Discuss His Book, Now an Award-Winning Film
Contact:
Shilo Rea / 412-268-6094 /
shilo@cmu.edu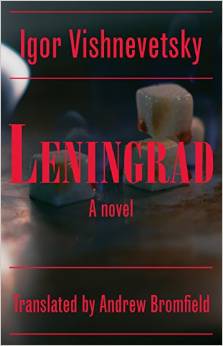 Event:
Many people know the tragic and destructive story of the Siege of Leningrad as one of the longest military operations in history that left a city ruined. Bombed and shelled continuously by the German Army from 1941-1944, Leningrad — known as St. Petersburg before 1924 and after 1991 — lost more than one million civilian citizens.
Acclaimed Russian Poet Igor Vishnevetsky tells a different kind of the story in his 2009 book
"Leningrad,"
which he wrote while a visiting professor of Russian in Carnegie Mellon University's
Department of Modern Languages.
The successful book is now an award-winning film. Back at Carnegie Mellon for another term as a visiting professor, Vishnevetsky will give a talk on the book, its origin and its transformation into film.
"Looking back, I realize that both the film and novel would probably never have come into existence were it not for my work in 2009 as a visiting professor in the Department of Modern Languages at Carnegie Mellon University," Vishnevetsky said. "I have lived and taught in many cities around the country. Pittsburgh turned out to be the most pleasant one. I find the atmosphere at Carnegie Mellon very congenial to my own interests. CMU is a school that harmoniously combines science and research with keen interest in the arts. The students are very motivated, and they, at least in my classes, will never let you out of the classroom until you answer all of their questions."
Vishnevetsky's "Leningrad" is considered to be experimental historical fiction because of the way it combines prose and poetry — excerpts from what sounds like private letters and diaries and quotes from newspapers and the NKVD, a Soviet Union law enforcement agency — into a book that is part philosophical novel and part black humor. Published by Russia's oldest literary periodical, Novyi Mir, "Leningrad" won the prestigious Russian New Verbal Art literary prize in 2012 and was translated into English in 2013.
Vishnevetsky also began working on a film script for "Leningrad" while at Carnegie Mellon. Most of the film's post-production took place in Pittsburgh, and Pittsburgh composer Eli Tamar composed all of the original music and designed the film's soundtrack. The film version of "Leningrad" recently won an award for its "original combination of documentary footage and feature film" from Russia's Guild of Film Historians and Critics.
"We are really fortunate to have Igor come to us through the faculty exchange program maintained by the departments of Modern Languages and History with his home institution, The Russian State University for the Humanities.  He is a man of uncommon versatility whose interests and accomplishments range from literature through music, art and theatre to film.  It's exciting to hear him share his insights into past Soviet and present Russian culture across a career of original scholarship and thoughtful experience," said Charlene Castellano, teaching professor of Russian.
"The Trauma of War and Art: From the Literary Text of 'Leningrad' To Its Film Version" is sponsored by the departments of Modern Languages, History and English in Carnegie Mellon's Dietrich College of Humanities and Social Sciences.
When:
4:30 p.m., Tuesday, Oct. 7. A reception immediately follows the talk.
Where:
Steinberg Auditorium, Baker Hall A53, Carnegie Mellon University
Cost:
Free and open to the public
###