September 16, 2014
Carnegie Mellon Research Explains Why People Endure Discomfort for Philanthropic Purposes
Contact: Mark Burd / 412-268-3486 / mdburd@andrew.cmu.edu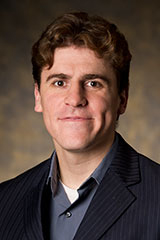 PITTSBURGH—No one likes to inflict pain or discomfort upon themselves, like dumping a bucket of ice water over their head, unless it's for a good cause, says Christopher Olivola, assistant professor of marketing at the Carnegie Mellon University Tepper School of Business.
Olivola, whose academic research focuses on human decision-making and the interdisciplinary field of behavioral economics, has conducted a series of studies and experiments examining the science of charitable giving. His findings help explain the fundraising successes of campaigns that are linked to physical activities requiring pain or effort, like walking a 5K, running a marathon or even the widely popular "ALS Ice Bucket Challenge," a fundraiser to support victims of Amyotrophic Lateral Sclerosis (ALS).
"Our studies have demonstrated that when someone endures pain for a charitable cause, for example by soaking themselves in ice-cold water, the sacrifice of their own comfort makes their contribution to the cause seem far more meaningful than if they were baking cookies or attending a charitable ball. This is what we have termed as the 'Martyrdom Effect.' The result is that monetary giving increases accordingly," Olivola said.
"However, our experiments have also found this to be true only if the cause seeks to reduce human suffering, such as the difficult symptoms of ALS. In other words, dumping a bucket of ice water over your head to raise money for a local library or public park would not generate the same results. The ALS Ice Bucket Challenge successfully made that connection."
Standard theories of human behavior would suggest that individuals seek to avoid pain and effort when possible. However, in a study titled "The Martyrdom Effect: When Pain and Effort Increase Prosocial Contributions" conducted with co-author Eldar Shafir, the William Tod Professor of Psychology and Public Affairs at Princeton University, and published by the Journal of Behavioral Decision Making, Olivola conducted five experiments that observed behavioral patterns that defy standard economic and physiological assumptions. The experiments demonstrate that people are willing to donate more to charity when they anticipate having to suffer to raise money and this effect is greatest for causes associated with human suffering.
According to Olivola's research, the elements of pain and effort also may cause people to contribute more money to a group effort. In one study, participants were given a sum of money that they could keep or donate to a group fund that benefitted their peers. They offered more of their money when donating to the fund required them to hold their hands in extremely cold water for 60 seconds, compared to when donating did not require enduring a painful task. With the added component of the cold-water task, participants in this study donated approximately 30 percent more money to the group than without the chilly requirement.
"Not only are people willing to participate in painful, effortful events and give away their money to aid anonymous others but, the prospect of experiencing pain and exerting effort for a pro-social cause can actually lead to greater altruism," Olivola said. "Achieving a better understanding of peoples' motivation to suffer for a cause is a valuable perspective for charitable fundraisers and is an outstanding topic for continued study."
       

###
Christopher Olivola (pictured above), assistant professor of marketing at Carnegie Mellon's Tepper School of Business, says when someone endures pain for a charitable cause, for example by soaking themselves in ice-cold water, the sacrifice of their own comfort makes their contribution to the cause seem far more meaningful. Olivola calls this the 'Martyrdom Effect.'