September 16, 2014
History Course Inspires Carnegie Mellon Alumnus To Reproduce Great-Grandfather's World War I Photo Album
Also a New Exhibit at the Carnegie Museum of Art, "Photography in the Trenches, 1914-1918" Runs Through December 2014
Contact: Shilo Rea / 412-268-6094 / shilo@cmu.edu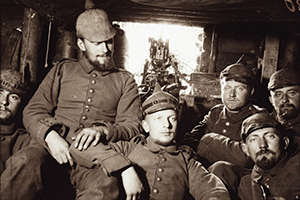 PITTSBURGH—When Carnegie Mellon University graduate Dean Putney (DC'11) saw his family for Thanksgiving in 2011, his mother showed him what she thought was just a family heirloom that had been hiding in his grandmother's closet. Putney's great-grandfather, Walter Koessler, was a lieutenant in the German army during World War I and had carried a camera throughout his service. Looking at the album Koessler had made after the war, Putney recalled what he had learned in his History of Photography class at Carnegie Mellon and knew it was something special.
Now, as the world marks the 100th anniversary of "the war to end all wars," Putney has reproduced his great-grandfather's album into a book, "Walter Koessler 1914-1918: The personal photo journal of a German officer in World War I."  A corresponding exhibit, "Photography in the Trenches, 1914-1918," is running at the Carnegie Museum of Art through December 2014.
"Taking Linda Benedict-Jones class on the history of photography was instrumental in bringing this album to life," said Putney, who majored in the Dietrich College of Humanities and Social Sciences' Information Systems Program and is now a software engineering consultant for large publishing websites like Boing Boing and Reddit. "Without her class, I wouldn't have felt that this was unusual or that people would care about it."
Putney reached out to Benedict-Jones, adjunct professor of history and curator of photography at the Carnegie Museum of Art, for her input and expertise. Benedict-Jones was fascinated with it because it represented a unique, one-of-a-kind object.
"There's something so rich in this story — a CMU student studying information systems, who happens to take an elective in the history of photography, had his eyes open and knew what his grandmother found was something important," said Benedict-Jones, who wrote the foreword in the book. "It became a passionate project for him, and it's wonderful that Carnegie Museum of Art is the first to exhibit these photographs."
Benedict-Jones gave Putney general advice on how to remain as faithful as possible to the album's original contents and how to convey scale and authenticity in a book. Putney took it from there and began researching the photographs.
To support the project, Putney created a Kickstarter campaign with a $50,000 goal. He ended up raising nearly $115K, making it one of the most-funded publishing projects on Kickstarter.
"With WWI's centennial coming up, people were really interested in it," Putney said. "It became a topic of conversation."
The end product is a book containing 107 pages and approximately 670 photographs. The photos candidly show Koessler and his comrades as they faced long stretches of inactivity coupled with bursts of the war's violence.
Adam Ryan, curatorial assistant for the art museum's photography department, worked with Putney to develop the exhibit. Housed in the museum's space dedicated to 1860-1920, the photos provide an aesthetic alternative to the fine art displays. Twenty-three of the album's pages are showcased.
"The album itself is remarkable — it contains very early examples of aerial surveillance photographs taken of a battlefield," Ryan said. "It also includes formal portraits of officers but most are spontaneous snapshots."
For more information on the book, "Walter Koessler 1914-1918: The personal photo journal of a German officer in World War I," visit http://walterkoessler.com/. For more information on the Carnegie Museum of Art exhibit, "Photography in the Trenches, 1914-1918," visit http://www.cmoa.org/.
###