October 09, 2014
Carnegie Mellon To Host Retired Supreme Court Justice David Souter
Contact:
Shilo Rea / 412-268-6094 /
shilo@cmu.edu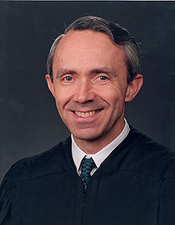 Event:
Retired Supreme Court Justice
David Souter
(right) will be the 2014 speaker for Carnegie Mellon University's John and Mary Lou Lehoczky Lecture Series in the Humanities and Social Sciences.
Souter, who served as an associate justice on the U.S. Supreme Court from 1990 to 2009, will discuss "The Humanities and Social Sciences for a Vibrant, Competitive and Secure Nation." The theme is an extension of the
American Academy of Arts & Sciences'
report
"Heart of the Matter,"
which focuses on the imperative role the humanities and social sciences play in improving education and creating a sustainable global society.
"We are honored to have Justice Souter join us for his perspective on how disciplines in the humanities and social sciences are absolutely necessary for the future and security of the United States," said
Kiron Skinner
, associate professor of
social and decision sciences
and director of CMU's
Center for International Relations and Politics
(CIRP). "His long and storied career in our legal system is an example of the power of a humanities and social sciences-backed education can have, and it is extremely fitting that he is giving the Lehoczky Lecture, which recognizes John and Mary Lou Lehoczky for their immense support of Carnegie Mellon's humanities and social sciences programs and initiatives."
Souter graduated from Harvard College in 1961 and received a degree from Harvard Law School in 1966. He was an associate at Orr and Reno in Concord, N.H., from 1966-1968, when he became Assistant Attorney General of New Hampshire. In 1971, he became Deputy Attorney General and in 1976 he became Attorney General of New Hampshire. He was named an Associate Justice of the Superior Court of New Hampshire in 1978 and was appointed to the state's Supreme Court in 1983. He became a judge of the United States Court of Appeals for the First Circuit on May 25, 1990, and a few months later President George H.W. Bush nominated him as an Associate Justice of the Supreme Court. Souter retired from the Supreme Court on June 29, 2009.
The Lehoczky Lecture Series in the Humanities and Social Sciences began last year as a way to honor John and Mary Lou Lehoczky for their service to Carnegie Mellon and the Dietrich College of Humanities and Social Sciences.
John served as dean of the Dietrich College from 2000 through June 2014. Among his most notable accomplishments were supporting the creation of the International Relations and Politics major, the CIRP, the Global Politics major, the Humanities Scholars Program, the Humanities Center and the Center for the Arts in Society, and working to advance the college's international programs and brain science research. He also is the Thomas Lord University Professor of Statistics and Mathematical Sciences and currently serves CMU as its interim executive vice president. Mary Lou is on the board of the Andrew Carnegie Society, a philanthropic group dedicated to alumni, parents and staff who annually support the university.
Sponsored by CIRP, the American Academy and the Dietrich College, Souter's talk on the American Academy's "Heart of the Matter" report follows the first Pittsburgh-based discussion of it that CMU hosted as part of President Subra Suresh's inauguration series last spring.
When:
1-2 p.m., Friday, Oct. 10

Where:
McConomy Auditorium, Jared L. Cohon University Center, Carnegie Mellon University
To Register:
Email
cirp@andrew.cmu.edu 

Important Information For Attendees:
No backpacks or large bags will be permitted inside the event; please do not bring these items with you.
###