October 09, 2014
Carnegie Mellon's School of Drama Presents Cabaret Evening Featuring Acclaimed Artist Andrew Lippa
Contacts: Pam Wigley / 412-268-1047 / pwigley@andrew.cmu.edu
                Erin Scott / 412-268-2068 / ekscott@andrew.cmu.edu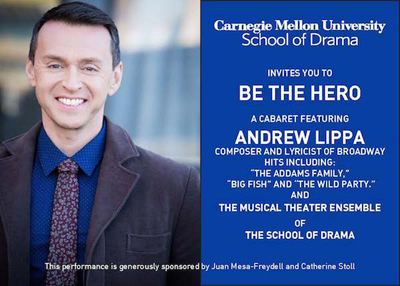 PITTSBURGH—Acclaimed composer and songwriter Andrew Lippa, best known for his music and lyrics for Broadway musicals such as "The Addams Family," "Big Fish" and "The Wild Party," will accompany the musical theater ensemble of Carnegie Mellon University's School of Drama for an evening of song Sunday, Oct. 26, at CLO Cabaret at Theater Square.
Lippa recently starred alongside longtime collaborator Kristin Chenoweth in "I Am Harvey Milk" at Avery Fisher Hall in New York. The choral/theater hybrid piece gives a biography of the eponymous gay activist and was written and composed by Lippa himself. This summer he will lead the cast at the Menier Chocolate Factory in London, presenting "Life of the Party," an evening celebrating his words and music.
Peter Cooke, professor and head of the School of Drama, said he is delighted that such celebrated artists continue to return to help students, many of whom go on to Broadway and Hollywood with tremendous success.
"I am thrilled Andrew Lippa is able to join our music theater artists to create an evening of his work in a cabaret format," Cooke said. "As Andrew is one of the brightest stars in the New York musical theater world, this collaboration between him and our performers will be a valuable and thrilling experience that should not be missed."
Gary Kline, professor of voice at the School of Drama, echoes Cooke's sentiment.
"One of my goals while teaching this course in cabaret is to bring my students into contact with those artists who are writing songs and Broadway musicals today," Kline said. "I'm particularly thrilled to have these students perform in this amazing venue before a wonderful audience who love this art form."
Doors open at 6:15 p.m., with open bar and food available in classic cabaret tradition. Tickets for the general public are $25 each, with all proceeds benefiting the Senior Showcase, an annual spring event in which graduating School of Drama students travel to New York and Los Angeles to present their work to industry professionals.  R.S.V.P. at www.alumni.cmu.edu/cabaret.
      
###