October 27, 2014
Carnegie Mellon Student Writing Awards Seek Entries From Pittsburgh-Area High School and College Students
Annual Martin Luther King, Jr. Writing Awards Encourage Students To Explore Personal Experiences With Race, Discrimination
By Shilo Rea / 412-268-6094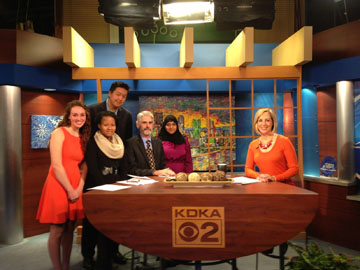 PITTSBURGH—From violence to discrimination, teenagers and young adults are not immune to the ugly side of humanity. For some, writing provides a creative outlet that can help them explore their feelings and put them on a path toward healing.
Carnegie Mellon University invites Pittsburgh-area high school and college students to submit poetry and prose pieces about their personal experiences with race, discrimination and other obstacles as part of the university's annual Martin Luther King, Jr. Writing Awards. The awards program — now in its 16th year — began as a way to bring students together to talk about race and has evolved into an event that unites a community. Winners receive cash prizes, read their pieces at a Carnegie Mellon awards ceremony and have the chance to travel to the Chautauqua Institution.
"The awards prompt students to think about Martin Luther King, Jr., race and other struggles in the context of their everyday lives. We have had compelling pieces by young people facing various kinds of discrimination based on religion, sexual orientation, and ethnicity," said Jim Daniels, the Thomas Stockham Baker University Professor of English who founded and directs the writing awards.
"The students write about how we treat and mistreat each other in airports and on the street, on sports teams and in our schools, in our own families and communities, in the workplace and in the media. These brave, talented student writers are careful observers of the world around them and offer important stories for us all to hear and learn from."
Last year, CMU student Iman Mazloum won first place in the college poetry category for her poem "They Ask and They Judge."
      
"With my concentration in international relations at CMU, I considered how to relate my personal experiences with those of the world around me," Mazloum said. "I shared my frustrations with people's inability to accept me as I present myself, but at the same time recognized that my experiences are only a part of our global struggle in the move for acceptance of differences and a positive attitude toward diversity."
Both poetry and prose submissions will be accepted. Fiction and nonfiction prose pieces should be less than 2,000 words and double-spaced. Entrants may submit up to five poems.
Selected entries will be published, and their student authors will be invited to read their work at Carnegie Mellon on Martin Luther King, Jr. Day, Monday, Jan. 19, 2015. The writing awards ceremony will be CMU's headline event that day as the university will spread its usual MLK, Jr. programming over several weeks.
Each student entry should be emailed separately as Microsoft Word attachments (.docx preferred) to mlkaward@andrew.cmu.edu or by mail to MLK Writing Contest, Department of English, Baker Hall 259, Carnegie Mellon University, 5000 Forbes Ave., Pittsburgh, PA 15213.
Entries must include the student's name, school, age, title of work(s) submitted, category of work(s) submitted (fiction, poetry, nonfiction), email address, home address and home phone number. The deadline is Friday, Nov. 21.
To read winning entries from previous years, visit http://www.cmu.edu/hss/english/courses/writing-awards/mlk/index.html.
Carnegie Mellon's Department of English, Division of Student Affairs and the Office of the President sponsor the writing awards.

###
Pictured Above: Several winners of 2014 Martin Luther King, Jr. Writing Awards appeared with Professor Jim Daniels on KDKA-TV.