November 03, 2014
Carnegie Mellon's Anna V. Fisher Wins James S. McDonnell Foundation Cognition Scholar Award
By Shilo Rea / 412-268-6094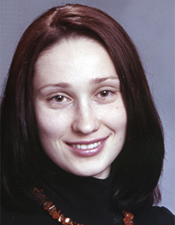 PITTSBURGH—It comes as no surprise that adults have much more advanced cognitive abilities than children. What remains less clear is how the advanced abilities, such as reasoning, understanding abstract concepts and organizing categories into multiple levels of abstraction, develop. Many psychologists and philosophers, dating back to Plato, believe the knowledge structures that support the drastic change in cognition are innate.
Carnegie Mellon University's Anna V. Fisher has received a James S. McDonnell Foundation 21st Century Science Initiative in Understanding Human Cognition-Scholar Award to provide an alternative theoretical account for advanced cognitive development. Fisher, associate professor of psychology in the Dietrich College of Humanities and Social Sciences, will use the six-year, $600,000 award to continue her research into the emergence of higher-order cognition in the course of development.
"Anna is a superb young scientist who is challenging conventional wisdom on how children learn to reason about the world around them," said Michael J. Tarr, head of the Department of Psychology. "This prestigious award is a clear signal that her innovative theories are having a significant impact on the field and she is poised, with the generous support of the McDonnell Foundation, to make many more game-changing advances regarding our understanding of how children think and learn."
Fisher's work centers on the idea that humans have the unique ability to learn and build structured representations from data. Using the McDonnell Award, she will apply this principle to explain developmental changes in higher-level thinking, particularly how developmental changes in the structure of semantic knowledge contribute to children's inductive reasoning.
"Inductive reasoning is generalizing from the known to the unknown. Having eaten an apple in the past, we can infer that a newly encountered apple is edible, and maybe generalize this knowledge to peaches and tomatoes," Fisher explained. "Inductive inferences are not always veridical; for example, a young child may incorrectly infer that all round objects are edible. Nevertheless, induction is a fundamental and ubiquitous aspect of cognition."
The ability of children to make inductive inferences on the basis of perceptual commonalities is well known; however, the ability to make inferences on the basis of non-obvious commonalities is less understood. Fisher's research explores how individual differences and developmental changes in the organization of semantic knowledge contribute to the emergence of children's ability to make inferences that are not based on perceptual commonalities.
For example, when told of a novel property of a crocodile and asked whether an alligator or a hippopotamus is more likely to share the property with a crocodile, some preschoolers guess (they are correct about 50 percent of the time) whereas other preschoolers answer correctly about 90 percent of the time. Averaging the responses across all children, results in an estimate of approximately 70 percent of correct responses, giving an overall impression that preschoolers are quite good at solving these kinds of problems.
"Considering only group averages may overestimate what we think young children know and can do, and at the same time underestimate the role of development. In my work, I consider systematic individual differences to be theoretically meaningful, rather than just a manifestation of statistical noise," Fisher said.
Carnegie Mellon has been a leader in the study of brain and behavior for more than 50 years. The university has created some of the first cognitive tutors, helped to develop the Jeopardy-winning Watson, founded a groundbreaking doctoral program in neural computation, and completed cutting-edge work in understanding the genetics of autism. Building on its strengths in biology, computer science, psychology, statistics and engineering, CMU recently launched BrainHubSM, a global initiative that focuses on how the structure and activity of the brain give rise to complex behaviors.
For more information, visit http://www.psy.cmu.edu/people/fisher.html.

###
Anna Fisher (pictured above), an associate professor of psychology, will use the six-year, $600,000 award to continue her research into the emergence of higher-order cognition in the course of child development.