November 25, 2014
Carnegie Mellon's Miller Gallery Opens Armin Hofmann Exhibition, Sponsored by School of Design Through March 2015
Exhibit Showcases Silkscreen Portfolio of Legendary Swiss Graphic Designer
By Pam Wigley / 412-889-6238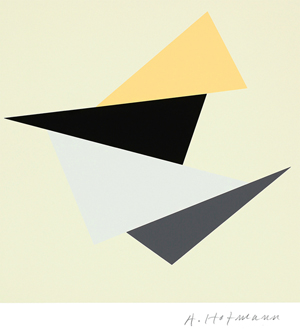 PITTSBURGH—The Miller Gallery at Carnegie Mellon University now features "Armin Hofmann: Farbe / Color," presented by the CMU School of Design, through March 1, 2015. The exhibition is curated by April Greiman and organized by the LA Architecture and Design Museum Co. A reception for the show is scheduled for 6 p.m., Friday, Dec. 12. The reception and exhibition are free and open to the public.
During his many years as a teacher at various institutions across the world, including the Basel School of Design in Switzerland and the Yale University School of Art, Hofmann accumulated a treasure-trove of experiences and findings on the subject of color.
Following his retirement, he produced 20 silkscreen portfolios, each containing 12 compositions. The Miller exhibition will showcase one of Hofmann's portfolios, as well as 18 studies of the prints as a part of "Farbe / Color." The legendary Swiss graphic designer and educator has described his silkscreens as an account of his pedagogical activities.
As an educator for 44 years, Hofmann has had immeasurable influence on generations of designers and shaped the world's perception and understanding of color and design. Hofmann's teaching style centered on the students' engagement with their own experiences and abilities, so enabling them to hone their individual perception of design issues.
Hofmann taught School of Design Professor Dan Boyarski, who remembered Hofmann in this way: "Studying with Armin Hofmann taught me many things — in particular, the elegance of subtlety — subtlety of color, of composition, and of delivery. I now try passing this on to my students, but without the nuance of the master."
Terry Irwin, head of the School of Design, was a student of Hofmann's at the Basel School of Design from 1983 until his retirement in 1986 and has fond memories of her time with the man she calls one of the giants of 20th century design.
"He is in every design history book and his work is found in the permanent collections of most large museums," Irwin said. "Studying with him was an incredible experience. Hofmann taught color in such an exacting way that we could only hold class when there was bright sunlight outside; he felt that cloudy days did not enable us to see the color well enough."
His influence was deeply felt, she said. "He once told me that it would take me five years or so to find my own voice once I'd left Basel, and he was right. I still think about the things he told us and nearly 30 years later, I only now fully understand some of them. He is an extraordinary designer but he is quite simply, a master teacher."

###