November 17, 2014
Student-Developed Communication Device Aids People with Lou Gehrig's Disease
iExpress Enables People To Summon Help With Their Eyes Via Computer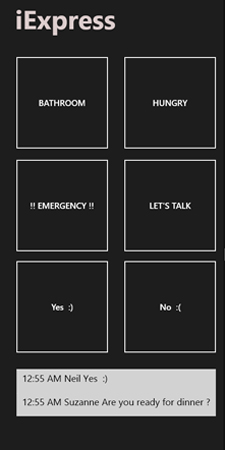 PITTSBURGH—Abhishek Sharma and Douglas Rew, master's degree students in software engineering at Carnegie Mellon University, have developed a device that enables people with amyotrophic lateral sclerosis (ALS), a neurodegenerative disease also known as Lou Gehrig's Disease, to communicate with caregivers, even after they have lost virtually all muscle control. Neil Alexander, an ALS patient and founder of Live Like Lou, worked with the students to develop the device, called iExpress.

Alexander and his wife, Suzanne, of O'Hara Township, Pa., will attend a demonstration of iExpress, which Rew and Sharma built as a project for CMU's Mobile and Pervasive Computing course. The course is taught by Dan Siewiorek, professor of electrical and computer engineering and computer science, and Mahadev Satyanarayanan, professor of computer science.
With iExpress, Alexander can send a message to a caregiver's smartphone by just staring at one of the message selections displayed on a computer screen.
When: 3 p.m., Tuesday, Nov. 18

Where: Room 6115 of Carnegie Mellon University's Gates and Hillman centers, 4902 Forbes Ave.
###