March 27, 2014
Press Release: Carnegie Mellon's International Film Festival Continues With Oscar-Winning Directors' Latest Films, Special Appearances
"Faces of Work" Runs Through April 5
Contact: Shilo Rea / 412-268-6094 / shilo@cmu.edu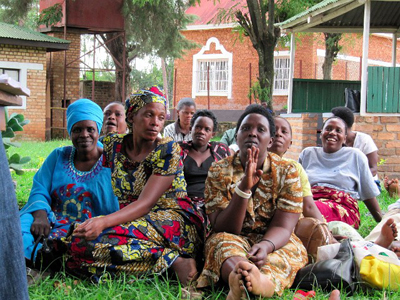 PITTSBURGH—The 2014 Carnegie Mellon University International Film Festival, "Faces of Work," opened with a record-setting 1,400 people attending the festival's screenings in its first week. The second week — running through April 5 — promises not to disappoint with Oscar-winner Mahamat-Saleh Haroun's film "GriGris," more special events and appearances by film directors, and the closing night screening of "Sweet Dreams," winner of four major international film festival prizes from Oscar-winning directors Lisa and Rob Fruchtman.
"Our theme — examining global working conditions and the people affected by them — is really resonating with audiences, and is a testament to the late Paul Goodman, who inspired this year's festival, and his commitment to raising global awareness on working conditions through film," said Jolanta Lion, director of the film festival and assistant director of the Humanities Center in the Dietrich College of Humanities and Social Sciences.
At 6 p.m., Saturday, March 29 in CMU's McConomy Auditorium, Haroun's "GriGris" will be shown. The film from Chad and France won the Vulcain Prize for Technical Artist at the 2013 Cannes Film Festival. It is a gripping crime and noir drama that tells the story of an aspiring disabled dancer and photographer who must put aside his artistic ambitions to support his ailing family through illegal gasoline trafficking. Nego Gato, Pittsburgh-based African and Brazilian dancers, will perform after the film, and a reception will be held for all attendees.
The Iranian film "Trapped," a moral thriller centered on the bristling relationship between two very different young women in contemporary Tehran, will be shown at 7 p.m., Thursday, April 3 in McConomy Auditorium. Director Parviz Shahbazi will attend and answer questions.
Frederick Wiseman's latest film "At Berkeley" will screen at 4:30 p.m., Friday, April 4 in McConomy Auditorium. The award-winning film from the infamous director show what life is really like at Berkeley through the different viewpoints of the administration, students and faculty. The documentary also highlights the difficulties higher education faces due to budget cuts and challenges stereotypes. A reception will follow the screening.
The 2014 festival will close at 6:30 p.m., Saturday, April 5 in McConomy Auditorium with "Sweet Dreams," a Rwandan-American film about perseverance after the genocide in Rwanda in 1994. It tells the story of Kiki Katese, a pioneering theater director who founded the country's first female drumming troupe. The Ingoma Nshya offered healing services to women on both sides of the conflict, but the struggle to survive still persisted. Katese came up with the idea to open Rwanda's first and only ice cream shop, giving the women an opportunity for independence and new opportunities.
"This film portrays hope for Rwanda," said Sara Faradji (DC'13), who has assisted the festival director for four straight years. "It's an inspiring story, which is rare to see coming out of Africa - and especially Rwanda. It shows how Rwanda has grown in the last 20 years."
The film's co-director Lisa Fruchtman will attend the screening and hold a Q&A after the film. Dave and Andy's, the beloved Pittsburgh ice cream shop, will serve ice cream at the closing night reception.
Over the past eight years, CMU's International Film Festival has gained prestige and a massive audience following. The National Endowment for the Arts (NEA) has taken notice and awarded the festival a highly competitive grant to support this year's festival and event activities.
"Faces of Work" is organized by Carnegie Mellon's Humanities Center. It is sponsored by the estate of Paul Goodman, NEA, Fine Foundation, Art Institute of Pittsburgh, University of Pittsburgh, Point Park University, Carlow University, Robert Morris University, Pittsburgh Filmmakers, Consulate General of the Republic of Poland in New York, LOT Polish Airlines, Polish Falcons of America, WPTS and Pittsburgh City Paper.
CMU departments and organizations that are supporting the 2014 festival include the Humanities Scholars Program, Science and Humanities Scholars Program, Center for the Arts in Society, Tepper School of Business, Undergraduate Student Senate, Division of Student Affairs, School of Art, Master of Entertainment Industry Management, Master of Arts Management, Center for Africanamerican Urban Studies and the Economy (CAUSE), Center for International Policy and Innovation, Entertainment Technology Center, African Business Collective and the Sembene Film Festival.
General admission tickets for all screenings are $8 and $5 for seniors and students. A full-access festival pass can be purchased for $50 ($25 for seniors and students.)
For a complete festival schedule, to watch the film's trailers and to reserve tickets, visit http://www.cmu.edu/faces/.
     
Related Articles:
Carnegie Mellon's International Film Festival Brings 12 Award-Winning Films to Pittsburgh March 20-April 5
"Shipbreakers" Film Documents Dangerous Scrapping Work
###
The 2014 festival will close at 6:30 p.m., Saturday, April 5 in McConomy Auditorium with "Sweet Dreams" (pictured above), a Rwandan-American film about perseverance after the genocide in Rwanda in 1994.