March 21, 2014
Media Advisory: Carnegie Mellon Presents "Christine Jorgensen: Transnational, Transsexual Celebrity"
Contact: Shilo Rea / 412-268-6094 / shilo@cmu.edu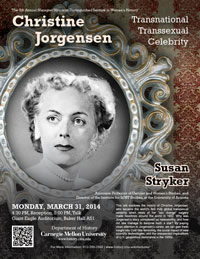 Event: When news of Christine Jorgensen's "sex change" surgery made headlines in 1952, she became the world's first global transsexual celebrity.

Carnegie Mellon University's annual Margaret Morrison Distinguished Lecture in Women's History will host Susan Stryker for a talk on "Christine Jorgensen: Transnational, Transsexual Celebrity." Stryker, associate professor of gender and women's studies and director of the Institute for LGBT Studies at the University of Arizona, will explore why Jorgensen's story was considered to be so newsworthy and how she managed to become such a star.

Stryker, who has written extensively about trans* issues and queer culture, will use details of Jorgensen's career to present a fresh perspective on Cold War femininity, the social impact of new scientific technologies and the unexpected implications of U.S. geopolitical dominance in the 1950s.

"Jorgensen's own history has been important to the emergence since the 1990s of a strong trans-movement across the United States, and Stryker's own work has been pivotal in bringing trans* issues into focus within the academy, challenging the very foundations of women's and liberation studies," said Lisa Tetrault, associate professor of history who specializes in U.S. women's history.

The Margaret Morrison Distinguished Lecture in Women's History is sponsored by Carnegie Mellon's Department of History, the Dietrich College of Humanities and Social Sciences and the Margaret Morrison College Program. The lecture is given annually to mark Women's History Month (March) and highlights the university's strengths in gender studies.
   
The lecture series is named for Margaret Morrison Carnegie, the mother of Andrew Carnegie, founder of Carnegie Mellon's predecessor, the Carnegie Institute of Technology. The institute was home to four schools, including Margaret Morrison Carnegie College, an all-women's school that closed in 1973.

When: Monday, March 31. Reception at 4:30 p.m.; Lecture at 5 p.m.
Where: Giant Eagle Auditorium, Baker Hall A51, Carnegie Mellon University.

###