March 18, 2014
Press Release: CLOUDS Premieres in Pittsburgh on Thursday, March 20
World's First 3D, Interactive, Generative Documentary Stemmed From Fellowship Experience
Contact: Pam Wigley / 412-268-1047 / pwigley@andrew.cmu.edu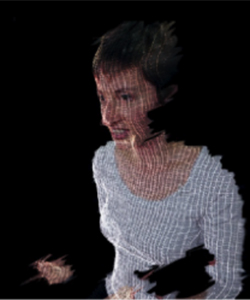 PITTSBURGH—Carnegie Mellon University's Frank-Ratchye STUDIO for Creative Inquiry has announced the Pittsburgh premiere of CLOUDS — the world's first 3D, interactive, generative, documentary film — at 5 p.m., Thursday, March 20, at the STUDIO (Room CFA-111 at CMU). The event is free and open to the public; refreshments will be served.
Directed by James George and Jonathan Minard (BHA'07), CLOUDS was created during a two-year fellowship at the STUDIO. The subject of the film is the global community of new-media artists and technologists. CLOUDS premiered earlier this spring in the New Frontier showcase at the 2014 Sundance Festival and will appear in the Transmedia Storyscapes section of the 13th Tribeca Film Festival in New York City April 16-27.
In describing CLOUDS, STUDIO Director Golan Levin said it is not a traditional film but rather "a visually groundbreaking experience that brings together documentary storytelling with the interactivity of a game-like world." Filmed using a new 3D cinema format called RGBD, CLOUDS uses a "probability-based story engine" to present an endless, ever-changing conversation about the role of computational thinking in contemporary arts and design.
The interview subjects in CLOUDS are an intergenerational community of more than 40 hacker-artists and luminary thinkers, who discuss their struggles to develop new forms of visual expression that resonate at a deeper human level. They tell the story of collaboratively inventing open-source tools that form the foundation of a global creative culture.
The project was produced by New York-based creative technologist Winslow Porter; executive producer was Golan Levin, and it was supported in part by the Frank-Ratchye Fund for Art @ the Frontier; CMU's Center for Computational Thinking; CMU's Computer Science Department; Eyebeam Center for Art and Technology; Kickstarter; Microsoft Interactive Entertainment Business; Microsoft Research; the National Endowment for the Arts; NYU Interactive Telecommunications Program; Pennsylvania Council for the Arts; and YCAM Interlab.
###
Rachel Binx (depicted in the screen shot above) is one of more than 40 hacker-artists and luminary thinkers featured in CLOUDS, the world's first 3D, interactive documentary film.