March 18, 2014
Media Advisory: Anonymous: Carnegie Mellon Lecture Analyzes Group's Protest Strategies and "Hacktivism"
Contact:
Shilo Rea / 412-268-6094 /
shilo@cmu.edu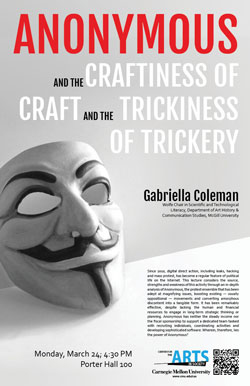 Event:
Since 2010, leaks, hacking and mass protest are regular features of political life on the Internet. The international network
"Anonymous"
has become well known for "digital direct action," or digitally mediated activist and "hacktivist" activities directed at the websites of governments, religious groups and corporations.
Carnegie Mellon University's
Center for the Arts in Society
(CAS) will host
Gabriella Coleman
for a lecture analyzing Anonymous' power and strategies. Coleman, the Wolfe Chair in Scientific and Technological Literacy at McGill University, will discuss
"Anonymous and the Craftiness of Craft and the Trickiness of Trickery."
She will evaluate the group's strengths and weaknesses and how their activities have magnified issues and boosted existing movements.
Coleman, whose work examines the ethics of online collaboration and institutions as well as the role of the law and digital media in sustaining various forms of political activism, also will explore how Anonymous has been remarkably effective despite the lack of human and financial resources typically needed for long-term strategic planning, coordinating activities and developing sophisticated software.
"Professor's Coleman's study of Anonymous — as well as her recent book, 'Coding Freedom: the Ethics and Aesthetics of Hacking' — is of exceptional interest to those of us who've taken part in the CAS's
media initiative
," said Paul Eiss, CAS director. "Her work demonstrates the importance of moving beyond a purely technological understanding of our digital age, by analyzing the use of new technologies in social, ethical, aesthetic and, especially, political terms." 
CAS is a research center in the
Dietrich College of Humanities and Social Sciences
and
College of Fine Arts
that explores the role of the arts in society. For more information, visit
http://www.cmu.edu/cas/
.
When:
4:30 p.m., Monday, March 24
Where:
Porter Hall 100, Carnegie Mellon University
###