March 03, 2014
Press Release: Carnegie Mellon's Pulkit Grover Wins NSF CAREER Award for Work To Reduce Energy Consumption of Big Data Center Networks
Engineering Professor's Team Has Developed a "New Science of Information Communication"
Contact: Chriss Swaney / 412-268-5776 / swaney@andrew.cmu.edu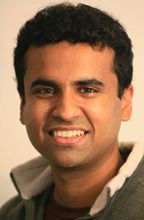 PITTSBURGH—Carnegie Mellon University's Pulkit Grover has been awarded a five-year, $600,000 National Science Foundation (NSF) Career Award for research aimed at reducing the amount of energy consumed by large data center communication networks.
"This award will help us arrive at radically new strategies to reduce energy in communication and computation networks. These include big-energy networks in data centers, but also smaller-energy indoor communication networks and those in brain-machine interfaces," said Grover, an assistant professor of electrical and computer engineering at CMU.
Today's new energy gluttons — the information and communication technologies (ICTs) — are predicted to consume more than 15 percent of the world's electricity. Grover is developing tools that will ultimately help reduce the amount of energy consumed by data center networks by 30 to 50 percent.
"We have developed a new science of information communication, one that is aimed at minimizing over-the-air transmit together with the circuit energy, and not just minimizing transmit energy," Grover said. "Our key observation is simple: just as we need energy to move a weight to overcome Newtonian friction, we need energy to move information to overcome 'Information-Friction,' which is our new model for computation energy. This simple observation changes the fundamental limits on communication and computation energy."
Grover reports that his team is developing novel energy-efficient protocols and circuits that can reduce energy consumption by including the right patterns of "redundancy" for correcting errors in communication links of big data centers.
"Through appropriate use of redundancy, we can correct errors with significantly lower total energy use compared with current systems," Grover said. "Networking in data centers is just one example of where these techniques are applicable."
Other applications for Grover's NSF-funded work range from high-speed indoor wireless cellular networks to brain-machine interfaces and chip-to-chip communication. The project also incorporates several educational and outreach efforts, including organizing interactive workshops for K-12 students and developing new material for both theoretical and experimental classes for educating cross-disciplinary leaders in both research and innovation. Many undergraduate students are also involved.
More information on the lab and its activities can be found at http://users.ece.cmu.edu/~pgrover/lab.html.
###
CMU's Pulkit Grover (pictured above) is developing tools that will ultimately help reduce the amount of energy consumed by data center networks by 30 to 50 percent.