March 13, 2014
Press Release: Carnegie Mellon-based Online Community for Educators Partners With Technology Startup To Share Insights
Working Examples and BloomBoard Establish Pipeline for Innovation in Education
Contact: Byron Spice / 412-268-9068 / bspice@cs.cmu.edu


PITTSBURGH—Working Examples (WEx), an online knowledge-sharing community for projects, expertise and resources supporting innovation in education, has partnered with BloomBoard, a Silicon Valley-based technology startup, to increase teachers' access to professional development resources.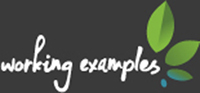 WEx, based at Carnegie Mellon University's Entertainment Technology Center, will provide infrastructure and support to creators of professional development offerings, and a pipeline for their ideas to BloomBoard's marketplace. BloomBoard is an online platform and individualized marketplace for educator professional development.
"BloomBoard will give the WEx community an expanded audience for those users who are building professional development tools and research," said Anna Roberts, WEx director. "At the same time, WEx can provide invaluable feedback to BloomBoard's content creators and users, helping them build better tools and develop better resources."
WEx users focus on the creation and use of innovative research, tools, curricula and programs in education. It provides a media-rich space for educators, researchers and designers to share strategies, works-in-progress and materials as they collaborate to create more effective resources to support teaching and learning. It is supported by the Bill & Melinda Gates Foundation and the John D. and Catherine T. MacArthur Foundation.
BloomBoard, launched in 2010, provides school districts and states with free observation and evaluation tools for implementing federally mandated teacher and principal evaluations. The company then uses the data those tools collect to build individualized learning plans for teachers that are aligned with an open marketplace of professional development providers, resources and workshops.
"This alliance supports the long-term vision of both of our organizations," Roberts said. "Each has worked consistently to connect communities and resources in support of innovation in education."
###