March 11, 2014
Media Advisory: Overseas Press Club, Carnegie Mellon's College of Engineering To Host Discussion of "The Future of Cybersecurity and Global Journalism"
Contact: Sherry Stokes / 412-268-5976 / stokes@cmu.edu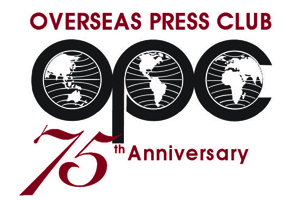 Event: "The Future of Cybersecurity and Global Journalism" will be the topic of two panel discussions sponsored by the Overseas Press Club (OPC) and hosted by Carnegie Mellon University's College of Engineering.

The panels, supported by the Ford Foundation, will be divided between the world of hackers and the ramifications of Edward Snowden's National Security Agency leaks. The panels will address the impacts of cybersecurity on journalism. Former OPC President Allan Dodds Frank will introduce the panelists. Moderators also will entertain questions from the audience.

The first panel, "Hackers Everywhere: Is the Internet Our Friend?" will run from 5 to 6:15 p.m. From the cyberattacks on Target to widespread identity theft and the Bitcoin-enabled denizens of the Web, this discussion will address how big the problem is and what can be done. The panel will include: FBI Agent J. Keith Mularski, head of Cyber Squad 16 in Pittsburgh; Andrew Conte, investigative reporter for the Pittsburgh Tribune-Review; and Nicolas Christin, an expert in information systems security at Carnegie Mellon CyLab. Moderating the panel will be Jim Cuddy, Jr., managing editor of the Pittsburgh Tribune-Review.

The second panel, "The Big Picture: The National Security Agency After Snowden," will start promptly at 6:30 p.m. Participants include: David Shribman, executive editor of the Pittsburgh Post-Gazette, as moderator; Carnegie Mellon CyLab Director Virgil Gligor; David A. Harris, a legal expert on privacy from the University of Pittsburgh; Mark Rochester, deputy managing editor of the Pittsburgh Post-Gazette; and joining by live videoconference from New York will be Ben Wizner, Snowden's attorney and director of the American Civil Liberties Union Speech, Privacy & Technology Project.  

The event is free and open to the public.
 
When: 5 — 8 p.m., Monday, March 24.

Where: The Robert Mehrabian Collaborative Innovation Center, DEC (Distributed Education Center) Room, 4720 Forbes Ave., Carnegie Mellon University, Pittsburgh, Pa. 15213.
###