June 26, 2014
Press Release: AOL Co-Founder Steve Case Visits Carnegie Mellon To Tout Pittsburgh's Entrepreneurial Ecosystem
Case Awards $100,000 Angel Investment to CMU Spinout SolePower
Contact: Abby Simmons / 412-268-4290 / abbysimmons@cmu.edu
PITTSBURGH—AOL co-founder and venture capitalist Steve Case arrived in Pittsburgh Wednesday morning on a tour bus to highlight the message that America's entrepreneurial spirit is alive in places other than Silicon Valley or New York.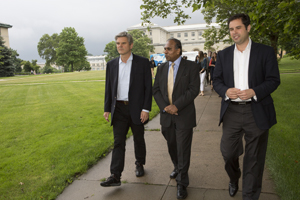 He also came promising a $100,000 personal investment in a Pittsburgh-based startup, which was awarded to Carnegie Mellon University spinout SolePower following a 10-company business pitch competition that featured no fewer than seven companies with CMU connections.

Case, who is chairman and CEO of venture capital firm Revolution, is conducting a four-day, four-city bus tour called "Rise of the Rest," which began Tuesday in Detroit. It concludes with stops in Cincinnati and Nashville, Tenn., this week.

The Pittsburgh stop is the only one that includes a visit to a university.

"Pittsburgh has a humility, a reluctance to beat its chest and talk about all the great things you're doing. But the story around Pittsburgh and Carnegie Mellon is not as well understood as it needs to be if this region is going to continue its rise as a great entrepreneurial region," Case said while visiting CMU, where he spoke with President Subra Suresh, local officials, venture capitalists, entrepreneurs, reporters and investors.

President Suresh said that Carnegie Mellon and Pittsburgh have an incredible story to tell, which he discovered as director of the National Science Foundation before stepping into the role as the university's president one year ago.

He pointed out that CMU is among the top institutions by any metric in spinning out more companies per dollar of federal research funding. CMU was one of the top five U.S. universities in attracting venture capital funding for its spinout companies last year - and the only one not located on either coast.

The pitch competition took place at AlphaLab Gear, a startup incubator in Pittsburgh's East Liberty neighborhood. Each of the 10 companies had five minutes to pitch its business plan.

SolePower walked away with the prize. The company has developed proprietary technology to store energy created when walking or running in a battery that can be used to charge electronic devices such as cellphones or tablets.

Co-founder Hahna Alexander impressed the panel with her description of the company's unique technology, solid business plan and strong early demand from customers as varied as the Department of Defense and companies marketing premiere outdoors gear.

Alexander and co-founder Matthew Stanton, both College of Engineering alumni, took advantage of CMU's startup ecosystem. SolePower received support from the CMU's Open Field Entrepreneurs Fund, the Center for Entrepreneurship and Innovation's Project Olympus and Donald H. Jones Center for Entrepreneurship, as well as the Center for Technology Transfer and Enterprise Creation. CMU mentors also connected SolePower with Pittsburgh-based startup accelerator AlphaLab.

The company took top honors at CMU's 2013 McGinnis Venture Competition and was named a 2014 Popular Science Invention Award winner. Alexander demonstrated SolePower's technology at the first White House Maker Faire, held June 18.

SolePower is seeking to raise $2.5 million in funding to expand its R&D and scale up production.

"This has probably been the most impressive business plan pitch event I have ever been involved with. Pittsburgh is clearly on the rise," Case said.

###
Pictured above are AOL co-founder and venture capitalist Steve Case, President Subra Suresh and CMU Board of Trustee Member Luke Skurman.