June 25, 2014
Press Release: Carnegie Mellon's School of Design Creates New Company To Help Families Fight Childhood Obesity Through Educational Games
"Fitwits" Engages Kids in Meaningful Health Improvement Practices
Contacts: Pam Wigley, College of Fine Arts / 412-268-1047 / pwigley@andrew.cmu.edu
                Mark Burd, Tepper School of Business / 412-268-3486 / mdburd@andrew.cmu.edu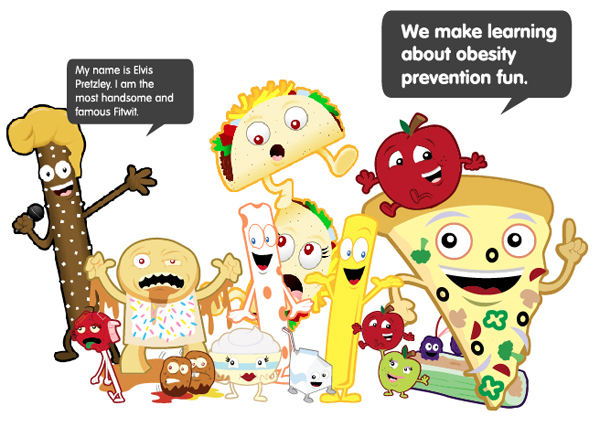 PITTSBURGH—Fitwits, a new startup company out of the School of Design at Carnegie Mellon University, is helping families fight childhood obesity and develop lifelong healthy eating habits. Five years in the making and backed by nearly $1 million of investments thus far, Fitwits is part of the CMU's Center for Technology Transfer and Enterprise Creation.
The company offers a system of print and digital tools that provides families, educators and health care professionals greater insight into health decisions that children make on a daily basis. Through child's play, Fitwits engages children in meaningful health improvement practices combining design thinking, healthy eating principles and technology to help reverse the upward trend of children between the ages of 6 and 11 who are overweight.
According to the Centers for Disease Control and Prevention, the percentage of obese Americans in that age group increased from 7 percent in 1980 to 18 percent in 2012. Hispanic boys and African-American girls are at greater risk. Children in lower socioeconomic households are especially challenged, but Fitwits creator Kristin Hughes, associate professor in Carnegie Mellon's School of Design, said the program applies to all families.
"Behavior modification is something that, when learned early, can last a lifetime," she said. "Through Fitwits, we're helping families try healthy behaviors through gaming, with the end result being a lifelong commitment to a healthier lifestyle." These endeavors highlight Hughes' personal mission: to demonstrate how design can be leveraged for social change.
To head the company, Fitwits has hired two Carnegie Mellon Tepper School of Business graduates, who also were members of the Highmark health services leadership team. Alistair Rock, who earned his MBA in 2006, will serve as CEO and brings to the company his national and international executive, strategic and marketing investment experience. Adam Jenkins, who earned a master's degree in engineering in 2003 and an MBA in 2007, will act as Fitwits' head of finance, innovation and strategic planning.
Additionally, Alden Miljkovic was named executive consultant and head of e-commerce and business development. He brings to the team more than 10 years of experience in banking, business development, distribution services, marketing and operations.
"This is an exciting time to introduce Fitwits," Rock said. "especially as health care technology and innovation is at the forefront of the news."
"Fitwits changes the dynamic between health care providers, families and kids, and we see the evidence: better-educated children and families, waist reduction, increased physical activity, and physicians feeling more comfortable and confident delivering obesity education," Hughes added.
Fitwits works toward healthy changes in families and organizations using three main product groups:
"Fitwits Games," which parents and children learn together;
"Fitwits Educator," a program for teachers with a train-the-trainer component; and
"Fitwits MD," which are flash cards physicians use during well child visits.
During the past five years, Hughes developed Fitwits and its products with input from physicians and nutrition specialists, families in weight management clinics and school personnel. It is now in a national trial with a global health insurance provider.
Fitwits was funded in part by grants from The Heinz Endowments, Eat 'n Park Hospitality Group, Innovation Works and Carnegie Mellon University.

###
CMU's Kristin Hughes created Fitwits (characters pictured above) and its products
to help families fight childhood obesity and develop lifelong healthy eating habits.