July 30, 2014
News Brief: Carnegie Mellon's Jay Apt To Testify at EPA Hearing on Clean Power Plan Proposed Rule
Contacts: Tara Moore / 412-268-9673 / tararaemoore@cmu.edu
                Mark Burd / 412-268-3486 / mdburd@andrew.cmu.edu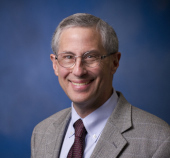 PITTSBURGH—Carnegie Mellon University Professor Jay Apt (right) will testify at the United States Environmental Protection Agency public hearing on the agency's proposed Clean Power Plan. His statement, focusing on innovations and strategy for existing power plants, will be presented on Thursday, July 31 in Pittsburgh and is part of four, two-day public hearings being conducted by the EPA on the proposed rulemaking.
The Clean Power Plan Proposed Rule was issued June 2, 2014, and outlines ways in which states can reduce greenhouse gas emissions from power plants that operate by combusting fossil fuels. It provides goals for each state to help the nation significantly reduce carbon dioxide emissions by the year 2020. States are given the freedom to decide how they will meet these goals, such as through employing the use of renewable or nuclear energy generation technologies, or by deploying new end-of-combustion technologies for carbon capture.
Apt, a professor of technology in CMU's Department of Engineering and Public Policy and the Tepper School of Business, will speak about the feasibility of the Clean Power Plan Proposed Rule and will provide an expert opinion about how the proposed plan can achieve the emission goals. He also will highlight some of the strengths of the proposed regulation.
"I teach in a business school and I believe in American industry's ability to innovate when there is a reason to do so," Apt says in his testimony. "We did exactly that in response to the Clean Air Act of 1970. The number of patents filed for sulfur dioxide pollution control technologies increased by a factor of 20 after the regulations. And we profited by selling that technology around the world. EPA's proposed rule will foster innovation and create jobs. This proposed rule provides the proper incentives for low-pollution power, and the flexibility for states to reduce pollution in sensible ways."
The public hearing will take place from 9 a.m. to 8 p.m. at the William S. Moorhead Federal Building, Room 1310, 1000 Liberty Avenue in Pittsburgh. Apt is scheduled to speak at 9:50 a.m.
His full testimony is available at http://wpweb2.tepper.cmu.edu/electricity/pdfs_other/Jay_Apt_EPA_Testimony_July_31_2014_final.pdf.


###