July 22, 2014
Press Release: Carnegie Mellon's Scott Sandage Helps "Modern Family's" Jesse Tyler Ferguson Learn His Family History on "Who Do You Think You Are?"
Contact: Shilo Rea / 412-268-6094 / shilo@cmu.edu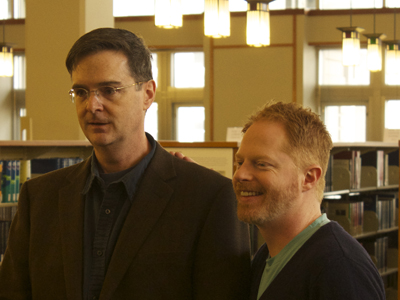 PITTSBURGH—The second season of TLC's genealogy documentary series "Who Do You Think You Are?" will feature "Modern Family" star Jesse Tyler Ferguson searching through his family history with help from Carnegie Mellon University historian Scott Sandage.
Premiering at 9 p.m. EDT, Wednesday, July 30, the episode will show Ferguson — who thought that he came from a "nice, normal family" — uncovering the life of his great-grandfather whom trouble seemed to follow at every turn.
Sandage, associate professor of history in CMU's Dietrich College of Humanities and Social Sciences, is a cultural historian who specializes in 19th century United States and the changing aspects of American identity. He is the author of the award-winning book "Born Losers: A History of Failure in America," which explores what makes someone a loser and how — from the colonial days to the Columbine tragedy — failure has evolved from a business loss into a personality deficit.
"Jesse's ancestor had an unusually varied career that included a lot of ambiguous episodes, which is the kind of history that is the most fun to investigate and learn about," Sandage said.
Sandage was impressed by how much historical research the "Who Do You Think You Are?" staff had done on their own and how they were not interested in sensationalizing findings.
"They were careful and conservative when it came to jumping to conclusions," he said. "For example, I turned up some evidence suggesting that Jesse's ancestor spoke at a presidential campaign rally with Teddy Roosevelt, but they did not use that bit because we could not prove that they were on the platform at the same time. That hesitancy gave me a lot of confidence that although they are producing entertainment, they had a real commitment to sticking to facts."
For more information on TLC's "Who Do You Think You Are?" visit http://www.tlc.com/tv-shows/who-do-you-think-you-are.
To learn more about Scott Sandage, visit http://www.history.cmu.edu/faculty/sandage.html.
###
Pictured above are Scott Sandage and Jesse Tyler Ferguson. Photo credit: TLC.