July 16, 2014
Media Advisory: Carnegie Mellon's Stephen E. Fienberg To Testify Before U.S. Senate on How Federal Government Can Capitalize on R&D Investments
Contact:
Shilo Rea / 412-268-6094 /
shilo@cmu.edu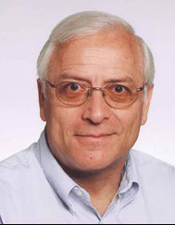 Event:
Carnegie Mellon University's
Stephen E. Fienberg
will testify before the United States Senate on how the federal government can strengthen its research portfolio and capitalize on research and development (R&D) investments.
Fienberg, the Maurice Falk University Professor of Statistics and Social Sciences, served as a member of the National Research Council's (NRC) Committee on Assessing the Value of Research in Advancing National Goals. The NRC is the operating division of the National Academies — the National Academy of Sciences, National Academy of Engineering and Institute of Medicine.
Fienberg will share highlights of the committee's report, "Furthering America's Research Enterprise."  He will outline the committee's findings on how scientific research impacts society and how all efforts should best be measured for accountability. The full report is available at
http://www.nap.edu/catalog.php?record_id=18804
.
"Congress asked the academies to study measures of the impacts of research on society, especially measures that could serve to increase the translation of research into commercial products and services," Fienberg said. "Although some measures of research outputs and benefits are useful for specific purposes, we found that current measures are inadequate to guide national decisions about what research investments will expand the benefits of science.
"Greater benefit will come, however, from measures to guide the pillars of the research enterprise - talent, resources and basic research. If we cultivate talent, provide adequate and dependable resources, and invest in a diversity of basic research, fresh discoveries will continue to power our economy and to enrich our lives in unpredictable and unimaginable ways," Fienberg said.
When:
Thursday, July 17, 2014
Where:
Russell Senate Office Building, Room 253, 2 Constitution Ave NE, Washington, DC 20002
Webcast:
The hearing will be webcast live via the Senate Committee on Commerce's website. Fienberg's testimony will also be available on the website:
http://www.commerce.senate.gov
.
###