July 15, 2014
Press Release: 16 Alumni Startups Receive Investment From Carnegie Mellon's Open Field Entrepreneurs Fund
Program's Fourth and Fifth Funding Cycles Connect Recent CMU Graduates and Their Companies with University Mentors and Resources
Contacts:
  Mark Burd / 412-268-3486 /
mdburd@andrew.cmu.edu 
                 Byron Spice / 412-268-9068 /
bspice@cs.cmu.edu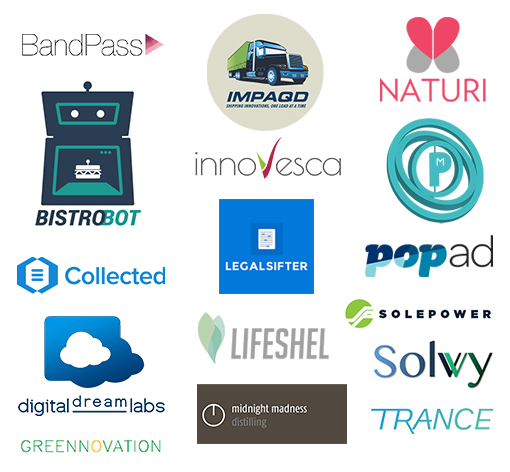 PITTSBURGH—Carnegie Mellon University's
Open Field Entrepreneurs Fund
(OFEF), administered by the Carnegie Mellon University
Center for Innovation and Entrepreneurshi
p, has awarded $800,000 to 16 startup companies to help them grow their business ventures. The fund, established by Carnegie Mellon alumnus and Flip Video Camera creator Jonathan Kaplan and his wife Marci Glazer, provides early-stage business financing and support to alumni who have graduated from CMU within the last five years. Kaplan earned his MBA from Carnegie Mellon in 1990.
The recipients constitute awardees for the fourth and fifth cycles of the program, which began in June 2012. Since the program's inception, 37 CMU-related startup companies have been awarded a total of $1,850,000.
"Research and learning at Carnegie Mellon generates great ideas and talented innovators," said Robert M. Dammon, CIE board member and dean of the
Tepper School of Business
. "Jonathan Kaplan is a prime example of an outstanding entrepreneur with proven successes in leading startup companies. The Kaplans' contribution to create and sustain the Open Field Entrepreneurs Fund is a valuable asset to our students and recent graduates that are seeking to successfully introduce new products and services to the marketplace."
Current awardees are introducing products and services that will benefit humanity in aspects such as development of affordable and sustainable housing, revelation of nutritional value in food products, community safety, retail inventory efficiency and more.
CMU is known for its entrepreneurial culture
having launched 36 startups in 2013
and more than 130 companies over the last five years.  It ranks first among U.S. universities without a medical school in the number of startup companies created per research dollar spent since 2007. In addition, CMU spinoffs represent more than a third of the total companies created in Pennsylvania based on university technologies during the past five years.
"The Open Field Entrepreneurs Fund is one of the programs that makes Carnegie Mellon a destination of choice for students, faculty and staff who are serious about entrepreneurship," said Dave Mawhinney, co-director of the Carnegie Mellon Center for Innovation and Entrepreneurship. "It provides newly founded companies with critical resources at the right time in their startup development, enabling them to grow to the next level. Plus, connection with elite entrepreneurs like Jonathan Kaplan is vastly beneficial to our both students and alumni entrepreneurship community."
Each OFEF recipient receives a $50,000 investment along with personalized mentoring from CMU faculty and alumni. Peter Stern, a Carnegie Mellon University classmate of Kaplan, co-founder of Datek Online and a serial entrepreneur, provides advisory support for the fund and serves as a mentor to one of the OFEF award recipients.
2014 Open Field Entrepreneurs Fund Award Recipients (Cycles 4 and 5)
BandPass:
Simplifies live music by providing bands with direct access to the shows they want to play and giving venues all the information they need to book shows. Website:
https://bandpass.me/
Bistrobot:
Aims to revolutionize fast food by using robotics technology to create fresh food in a timely manner. Website:
http://www.bistrobots.com/
Collected:
Allows users to uncover and reuse existing work by providing related content from the user's cloud accounts as they type. Website:
http://www.collected.io
Digital Dream Labs:
Teaches children how to build programs as they guide characters in a videogame through puzzles, learning the fundamentals of computer science along the way. Website:
http://www.digitaldreamlabs.com/
Greenovation:
Designs, builds and develops affordable and sustainable housing.  
Impaqd:
Offers a real-time, location-based system that provides direct communication between shippers and truckers. Website:
http://www.impaqd.com/
Innovesca:
Develops processing technologies to provide users with a detailed account of food's nutritional benefits. Website:
http://www.innovesca.com/
LegalSifter:
Helps users to better understand legal documents by helping them to summarize, sort and search legal information quickly and efficiently. Website:
http://legalsifter.com/
LifeShel:
Produces smartphone cases and applications that crowd-source community safety through prevention hardware and a user-based responder network. Website:
http://lifeshel.com/
Midnight Madness Distilling:
An absinthe distiller that provides a premium alternative to common liqueurs with its Swiss-imported herbal liqueur. LinkedIn: 
https://www.linkedin.com/company/midnight-madness-distilling
Naturi:
A group of food enthusiasts who create and share artisanal and organic recipes. Website:
http://naturi.com/
PieceMaker:
Provides retail stores the means to create customized inventory. Website:
http://www.piecemaker.com/
popAD:
A user-generated advertising platform that allows users to create quality ad content using data-driven ad products. Website:
http://popad.co/
SolePower:
Develops power-generating shoe insoles for charging portable electronics just by walking. Website:
http://solepowertech.com/
Solvvy, Inc.:
A problem-solving assistant that gives users the best solution from the Web when they describe a problem. Website:
http://solvvy.com/signup
Trance:
A social network where people can watch, record and share dance videos, serving as "the world's largest dance floor." Website:
http://www.tranceapp.com/
For additional information about this program, please visit the Carnegie Mellon Center for Innovation and Entrepreneurship website:
http://www.cmu.edu/cie/index.html

###
Pictured above are the logos of some of the 16 alumni startups that received investments from CMU's Open Field Entrepreneurs Fund.