January 09, 2014
Press Release: Carnegie Mellon Celebrates 15 Years of Martin Luther King, Jr. Day Writing Awards With Record-Breaking Number of Entries
High School and College Winners Will Read Their Pieces Monday, Jan. 20 at CMU
Contact: Shilo Rea / 412-268-6094 / shilo@cmu.edu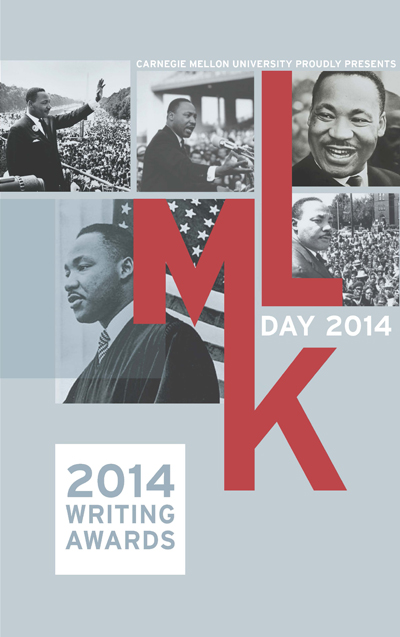 PITTSBURGH—In 1999, Carnegie Mellon University English Professor Jim Daniels had an idea to help Pittsburgh-area students better understand Martin Luther King, Jr.'s lasting legacy of combating racial inequality: he founded the university's Martin Luther King Jr. Day Writing Awards to encourage high school and college students to reflect on their personal experiences with race and discrimination.
Now celebrating its 15th anniversary, the program's mission — to think about King and race in the context of their everyday lives — continues to resonate with adolescents and young adults. A record 228 entries were received this year from public and private high schools, colleges and universities throughout the region.
The 2014 winners in both poetry and prose will read their pieces as part of CMU's annual Martin Luther King, Jr. Day activities at 12:30 p.m., Monday, Jan. 20 in the University Center, Rangos Ballroom.
"It's astounding to think that over the years we have received over 2,000 entries from young people facing all kinds of discrimination in their own lives," said Daniels, the Thomas Stockham Baker Professor of English who will be honored by Coro Pittsburgh later this month for his role in giving students an outlet for discussing diversity and promoting tolerance. "This year's winners offer compelling stories of how we treat and mistreat each other - in airports and on the street, on sports teams and in our schools, in our own families and communities, in the workplace and in the media. These brave, talented student writers are careful observers of the world around them and offer compelling stories for us all to hear and learn from."
The awards ceremony also will feature a choral tribute to King by the Carnegie Mellon School of Drama Choir, under the direction of Gary Kline, teaching professor of voice. The choir has been a key element of the university's celebration for the past six years, but this is the first year the choir will accompany the writing awards to honor King in both word and music.
"The choir is comprised primarily of musical theater students who gather to sing songs that are in sync with the spiritual and political views of Dr. King," Kline said. "The repertoire includes songs of protest and peace, mostly in the gospel style that was associated with Dr. King and his vision."
CMU's Department of English, Division of Student Affairs and the Office of the President sponsor the awards. Cash prizes will be presented to the student winters. The readings and choral performance are free and open to the public.
The 2014 winners are:
High School Poetry
First Place: Deborah Monti, Taylor Allderdice High School, "The Woman, the Paradigm"
Second Place: Alexis Payne, CAPA 6-12, "Give"
Third Place: Bani Randhawa, Taylor Allderdice High School, "the diary of a suspected terrorist"
Honorable Mention:
Maya Best, CAPA 6-12, "Words"
Ra'naa Billingsley, CAPA 6-12, "Wanna be Barbie"
Taylor James, CAPA 6-12, "Color is Not Me"
     
College Poetry
First Place: Iman Mazloum, CMU, "They Ask and They Judge"
Second Place: Vanessa Branch, CMU, "They Say I'm Something Ugly"
Third Place: Angela Kij, CCAC, Allegheny Campus, "Prejudgment"
Honorable Mention: Jacqueline Barnes, CMU, "Overreacting"

High School Prose
First Place (tie): Donavan Petri, CAPA 6-12, "Sunrise Boulevard" and Clara Dregalla, CAPA 6-12, "Shy, Bi, and Ready to Cry"
Second Place: Bridget Re, Winchester Thurston School, "Co-Ed"
Third Place: Austinjit Singh Mann, The Kiski School, "A Different Perspective"
Honorable Mention:
William Gardner, The Kiski School, "A Chained Dream"
Odell Minniefield, Taylor Allderdice High School, "BMX Race"
Dennis Briggs, Shadyside Academy, "Dr. King Reflections"
   
College Prose
First Place: Jason Choi, CMU, "Confucius Plays Dice in Flushing"
Second Place: Alysa Landry, Chatham University, "Destiny in Dirt"
Third Place: Jacqueline Barnes, CMU, "Before I Was Pretty"
Honorable Mention:
Karen Nguyen, CMU, "Cruel Irony"
Sidharth S. Bhadauria, CMU, "DJ and I"
Hadeel Salameh, University of Pittsburgh, "My Ancestry, rooted under occupied soils"

For more information and to read the 2014 winning entries, visit http://www.cmu.edu/hss/english/courses/writing-awards/mlk/index.html.

Related Articles:
Carnegie Mellon MLK, Jr. Writing Award Winners To Read at Chautauqua Institution
Video: Carnegie Mellon's 2013 Martin Luther King, Jr. Writing Awards
     
 ###