January 08, 2014
Press Release: Carnegie Mellon Electrical and Computer Engineering Students Host Sixth Annual Festival Showcasing Creative Product Prototypes
Contact: Chriss Swaney / 412-268-5776 / swaney@andrew.cmu.edu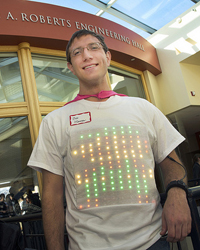 PITTSBURGH—About 200 Carnegie Mellon University engineering students will put their creative solutions to everyday consumer needs on display from 2 to 5 p.m., Friday, Jan. 17, at the sixth annual Build 18 engineering fair in the University Center's Wiegand Gym.
"Build18 is a great and unique opportunity to complement our studies with the application of real-life skills. That includes what we learn in electrical and computer engineering (ECE) to create a cool product in a short time, within a budget in a team environment to devise innovative solutions on the fly with the equipment available," said Michael Ryan, an ECE senior and Build 18 leader from Rockville Centre, N.Y.
Ryan reports that 75 teams work nonstop for a week creating product prototypes that are environmentally friendly, fully functional and economical for today's fragile household budgets. This year, some ideas being showcased include a specially designed blimp to deliver mail, an electronic tug-of-war game and a TV screen that duplicates a formula one racecar course.
"There is simply no limit to what the students develop over this fast and furious week of imagination and creativity," said Pronoy Biswas, an ECE senior and event co-director from Edison, N.J.
The festival evolved out of ECE students' desires to expand classroom concepts into a fast-paced, abbreviated challenge to create innovative products under strict deadlines and limited funding, as is the case for most entrepreneurial startups.
"We wanted to get out of our comfort zones and really see what it's like to compete in the marketplace," Ryan said.
Susan Farrington, head of ECE alumni and employer relations and a founding Build 18 adviser, praised the students for their organizational skills and enthusiasm. "Our students have very demanding schedules and for them to take time to develop the Build 18 concept and orchestrate this event annually is both amazing and a testament to the quality of our engineering programs and this university," she said.
In addition to the festival, two ECE distinguished alumni will attend the festival and share their business acumen and success with students. Thomas Marchok, a senior director of business development at Qualcomm, will give a tech innovation talk, and Manu Kumar, founder and chief firestarter for K9 Ventures, also will participate. K9 Ventures is a technology-focused micro venture capital fund based in Palo Alto, Calif.
Carnegie Mellon is one of the fastest growing entrepreneurial universities in the U.S. It's students and faculty have created more than 300 companies and 9,000 jobs in the past 15 years.
For more information about this event, please see www.build18.org.
        
###
Pictured above is Ben Hauser in the "Draw-A-Shirt," one of the products created during the 2013 Build 18 fair. The shirt covered in LEDs could be hooked up to a tablet or a computer with a drawing pad attached, and the drawing you make will appear on the shirt.