January 06, 2014
Press Release: Carnegie Mellon Revamps Washington Semester Program
First Students Arrive in D.C. For New CMU Initiative
Contact: Shilo Rea / 412-268-6094 / shilo@cmu.edu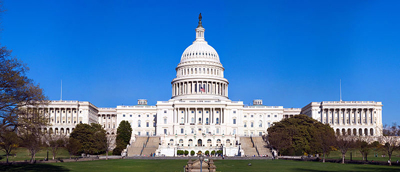 PITTSBURGH—Six Carnegie Mellon University undergraduates interested in international and public policy have arrived in Washington, D.C., to begin study in CMU's revamped Washington Semester Program (WSP), an effort that leverages the strength of faculty networks and their policy expertise in the nation's capital.
Under the new format, CMU will solely operate all aspects of the program, from academics and internships to events and housing.
"This new Carnegie Mellon program allows us to shape the entire intellectual policy experience in Washington, D.C., for our students instead of having them attend capital-area universities for a semester. Many top-tier research universities have a presence in Washington that includes an undergraduate education component. This will give CMU students direct insight into how the government works and interacts with NGOs and other organizations in D.C.," said WSP Director Kiron Skinner, associate professor of social and decision sciences and director of the university's Center for International Relations and Politics (CIRP), which sponsors the WSP.
Skinner and Joseph E. Devine, associate dean of the Dietrich College of Humanities and Social Sciences, will each teach one Spring 2014 course at CMU's new Washington, D.C., office located on Capitol Hill in the United Methodist Building. Skinner will teach the Policy Forum course, which will also include a weekly dinner with a national or international thought leader, giving the students firsthand access to those influencing policy decisions.
Under the new program, CMU will help the students find and secure internships that match their interests and strengths. Devine will teach the internship seminar, bringing an intellectual element to the work they are doing, how it relates to the world on a larger scale and how it can help them grow professionally.
The six CMU students participating in the new WSP are:
Latif Elam (DC'15), an ethics, history and public policy major who will intern in the office of U.S. Senator Kirsten Gillibrand;
Chloe Hawker (DC'15), an international relations and politics major who will intern at the Near East Asia Center for Strategic Studies;
Emily LaRosa (DC'15), an ethics, history and public policy major with an additional major in European Studies who will intern at the Northeast Midwest Institute;
Molly Shanley (DC'15), a decision science major with an additional major in international relations and politics who will intern at the U.S. Department of Justice - Child Exploitation and Obscenity Section;
Megan Steinmetz (DC'15) a policy and management major with an additional major in decision science who will intern at the U.S. Department of State - Bureau of Human Resources; and
Edward Wojciekowski, a French and Francophone Studies major with an additional major in Hispanic Studies who will intern at the Embassy of France in the Press and Communications Office.
Hawker, who interned on Capitol Hill last summer as a Friedman Fellow, thinks programs like WSP are vital.
"Opportunities like this make me feel like I will be extremely competitive in either the professional or academic world, whichever I decide to go after leaving CMU," she said.
To complement CMU's offerings in D.C., the university is in the process of joining the University of California Washington Center (UCDC), which provides students and faculty from the UC campuses and guest universities with research and work opportunities.
"Eventually, we will offer a core course and a variety of electives taught by Carnegie Mellon faculty for both CMU and UCDC students in D.C.," Devine said.
In addition to Skinner and Devine, the WSP executive committee that is guiding the program's development includes Amy Burkert, vice provost for Education; Michael Murphy, vice president for Campus Affairs; Gina Casalegno, dean of Student Affairs; Emily Half, academic program manager in the Dietrich College; Connie Angermeier, coordinator of student programs in the Department of Social and Decision Sciences; Mark Stehlik, associate dean for Education at Carnegie Mellon Qatar; and Katie Stoebe, executive director of CIRP.
Administered by the Dietrich College, WSP is open to any CMU undergraduate student with at least a 3.0 cumulative QPA who receives adviser approval, and who would enroll in the program no earlier than the second semester of their sophomore year, and no later than the first semester of their senior year. Students are welcome to pursue internships in any sector or field within D.C.
For more information, visit http://www.cmu.edu/ir/washington-semester-program/index.html.
###
Pictured above is the U.S. Capitol Building, which can be seen from Carnegie Mellon's new office space in the United Methodist Building.