January 28, 2014
Press Release: Carnegie Mellon's Roberta Klatzky To Receive Queenan Professorship in Psychology
Chair Recognizes Klatzky's Outstanding Contributions to Human Perception and Cognition Research
Contact: Shilo Rea / 412-268-6094 / shilo@cmu.edu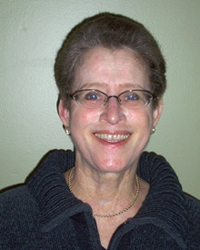 PITTSBURGH—Carnegie Mellon University's Roberta Klatzky will receive the Charles J. Queenan Professorship of Psychology in recognition of her outstanding contributions in human perception and cognition research.
Klatzky, who joined the Carnegie Mellon faculty in 1993, investigates perception, spatial thinking and action from the perspective of multiple modalities, sensory and symbolic, in real and virtual environments. Her research has been instrumental to the development of telemanipulation, image-guided surgery, navigation aids for the blind and neural rehabilitation.
"Carnegie Mellon has been a leader in the cognitive sciences for nearly 65 years, and Roberta Klatzky is one of the reasons we continue to be at the forefront," said John Lehoczky, dean of the Dietrich College of Humanities and Social Sciences. "It's fitting that she is honored for her tremendous impact as a scientist and educator with a chair in Charles Queenan's name — a longtime supporter of CMU and our innovation in research."
Klatzky, who holds additional appointments in the Human-Computer Interaction Institute and the Center for the Neural Basis of Cognition (CNBC), considers her research as a cognitive scientist who focuses on perception to be far from what most people think of as psychology. She became interested in perception while studying math at the University of Michigan and believes that her math background has been invaluable, given the quantitative nature of her work and her close collaboration with researchers in engineering and the life sciences.
"This is an extremely well-deserved honor for a remarkable researcher and professor. Roberta's work in perception and cognition have directly impacted people's lives, and Carnegie Mellon and the fields of psychology and cognition are infinitely better off thanks to her contributions," said Michael J. Tarr, head of the Department of Psychology.
From 1993-2003, Klatzky headed CMU's Psychology Department, helping to sustain the department's leadership in cognitive science, artificial intelligence, and social, developmental and health psychologies.
In 2010, Klatzky received an Alexander von Humboldt Research Award, providing her with support for a period of collaborative research in Munich.  She also was the recipient of the Kurt Koffka Medaille from Justus-Liebig-University of Giessen, Germany for her work on perception and action. She is a fellow of the American Association for the Advancement of Science, the Association for Psychological Science and the American Psychological Association; a senior member of the Institute of Electrical and Electronics Engineers; and a member of the Society of Experimental Psychologists.
Her professional service includes governance roles in several societies and membership on the National Research Council's committees on International Psychology, Human Factors and Techniques for Enhancing Human Performance. Klatzky has served on research review panels for the National Institutes of Health, National Science Foundation and European Commission.
Queenan, an award-winning attorney, is an emeritus life trustee and former chairman of CMU's Board of Trustees. He joined the board in 1994 and became a life trustee in 1997. He currently serves on several standing committees, including the Executive Committee.
Klatzky will officially receive the Queenan Professorship at a ceremony from 4 — 6 p.m., Wednesday, Feb. 5 in CMU's Posner Center. For more information on Klatzky, visit http://www.psy.cmu.edu/people/klatzky.html.
###