January 27, 2014
News Brief: "Winter Morning Walks" Album, Based on Carnegie Mellon University Press Book, Wins Three Grammys
Contact: Shilo Rea / 412-268-6094 / shilo@cmu.edu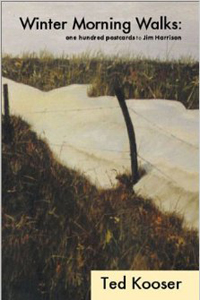 PITTSBURGH—Composer Maria Schneider dominated the classical music categories at the 2014 Grammy Awards for her album "Winter Morning Walks," which is based on the Carnegie Mellon University Press published book of the same name.

The 2001 poetry book by Pulitzer Prize winner and former U.S. Poet Laureate Ted Kooser was inspired by Kooser's battle with cancer and chemotherapy treatment.

Schneider's album features soprano Dawn Upshaw with the Australian Chamber Orchestra and the Saint Paul Chamber Orchestra. It won the Grammy in each of the three categories that it was nominated in:  Best Contemporary Classical Composition, Best Classical Vocal Solo Album and Best Engineered Album, Classical.

"Ted Kooser is a poet of great acclaim, and we at the Press are pleased that Maria Schneider has taken Ted's cycle of poems and extended its quality beyond the realm of poetry," said Gerald P. Costanzo, professor of English and director of the Press.

For more information on the album, visit http://www.mariaschneider.com/.
For more information on the book of poems, visit http://www.amazon.com/Winter-Morning-Walks-Postcards-Harrison/dp/0887483364.
And Also at the Grammys ...
Carnegie Mellon Alumnus Billy Porter, a 1991 graduate of the School of Drama, and the cast of the Broadway smash "Kinky Boots" won a Grammy Award for Best Musical Theater Album.

This past June, Porter won a Tony Award for Best Performance in a Leading Role in a Musical for his performance in "Kinky Boots.
###