January 27, 2014
Press Release: Carnegie Mellon Researchers Develop Novel Tools To Improve Manufacturing Processes for Aerospace and Medical Device Industries
Engineering Professors To Begin $1.9 Million Project for "Additive Manufacturing"
Contact: Chriss Swaney / 412-268-5776 / swaney@andrew.cmu.edu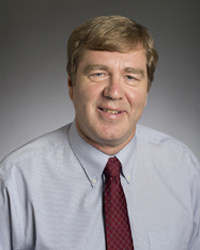 PITTSBURGH—For the next 18 months, Carnegie Mellon University researchers will work with industry to develop methods to make the three-dimensional printing technology for fabricating metal components a higher volume manufacturing process.
With a $1.9 million grant from America Makes, the National Additive Manufacturing Institute in Youngstown, Ohio, CMU Mechanical Engineering Professor Jack Beuth will lead a research team in developing tools to improve powder-bed additive manufacturing processes, better known as 3-D printing. The technology allows the building of highly complex components that cannot be fabricated by traditional processes, while decreasing the cost of products, including jet engine parts and medical implants.
Beuth and CMU team members Fred Higgs, professor of mechanical engineering, and Anthony Rollett, professor of materials science and engineering, and Ola Harrysson of North Carolina State University, have been working to control and understand metal microstructure and mechanical properties of products made by two kinds of additive manufacturing processes. His team is investigating the EOS Laser Sintering process and the Arcam Electron Beam Melting process. Both are powder-based additive manufacturing processes that directly build metal components from metal powders. At present, these two additive manufacturing processes are the most successful at automatically fabricating any 3-D shape of metals.
"At this time, high-quality results are only guaranteed if powders from the additive manufacturing machine manufacturers are used. For those processes to become high volume manufacturing processes, a wider range of powder options is needed," Beuth said.
Beuth's team is charged with determining how to alter the additive manufacturing process to allow for use of a wider range of powders. The team includes 12 industry partners representing powder manufacturing, aerospace, medical devices, electronics and other industries. CMU, a founding member of America Makes, has purchased new metals-based additive manufacturing equipment to complete the research.
"We are looking to continue our dynamic partnerships with all participants as we seek ways to improve U.S. manufacturing," said CMU's Gary Fedder, director of the Institute for Complex Engineered Systems (ICES), associate dean of research for the College of Engineering and the university's leader in the ongoing additive manufacturing initiative.
                 
                                 
###
Mechanical Engineering Professor Jack Beuth (pictured above) is leading a research team in developing tools to improve powder-bed additive manufacturing processes, better known as 3-D printing.