January 21, 2014
Press Release: As Dungeons & Dragons Turns 40, Authors Update Their Account of Its Deep Influence on Computer Games
Carnegie Mellon's ETC Press Publishes New Edition of "Dungeons & Dreamers"
Contact: Byron Spice / 412-268-9068 / bspice@cs.cmu.edu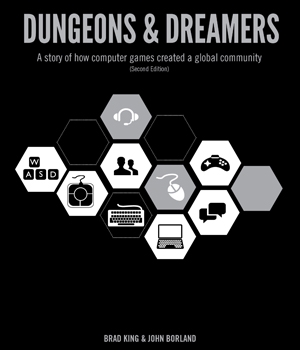 PITTSBURGH—As the fantasy role-playing game Dungeons & Dragons (D&D) turns 40 on Jan. 26, Carnegie Mellon University's ETC Press is releasing an updated second edition of "Dungeons & Dreamers: A story of how computer games created a global community," which describes how the tabletop game shaped much of the modern computer game landscape.
The book by authors John Borland and Brad King traces the stories of the people who built the early and most influential virtual game worlds. In the updated edition, they further explore themes that were only beginning to emerge when their book was first published in 2003.
D&D was created by Gary Gygax and Dave Arneson in 1974. As Borland and King explain, the game captured the attention of a small, but influential group of players, many of whom also gravitated to the computer networks that were then appearing on college campuses. With the subsequent emergence of the personal computer, a generation of geeky storytellers arose that translated communal D&D playing experiences into the virtual world of computer games.
"The more we spoke with game developers such as Richard Garriott de Cayeux, John Romero and John Carmack, the more it became clear how deeply Dungeons & Dragons had impacted their view of how to build a game," said King, now an assistant professor of journalism at Ball State University. "Garriott, in particular, wanted to create vibrant, interactive spaces where people could be themselves. It wasn't enough for players to figure out what he wanted them to do; Garriott wanted them to create their own adventures."
Those virtual worlds and computer gamers have helped drive a global video game industry today worth more than $20 billion, according to the Entertainment Software Association.
"'Dungeons & Dreamers' tells the epic story of the rise of the games industry from its geeky roots to its mass market dominance," said Garriott, creator of the Ultima franchise. "None of us who were there at the beginning had any expectations it would rise to overshadow all other communications media combined ... but it has. Today, what started on tiny machines as an homage to our paper gaming roots, now leads all other creative media in reaching a global audience, impacting society and generating revenues."
"We're excited to release the new edition of 'Dungeons & Dreamers' through ETC Press," said Drew Davidson, director of Carnegie Mellon's Entertainment Technology Center and editor of ETC Press. "The new book updates its exploration of D&D and its lasting influence."
The book will be available in retail outlets on March 15. Pre-sale orders are available through http://www.dungeonsanddreamers.com.
The ETC Press is an academic and open-source publishing imprint that distributes its work in print, electronic and digital form. Inviting readers to contribute to and create versions of each publication, ETC Press fosters a community of collaborative authorship and dialogue across media. ETC Press represents an experiment and an evolution in publishing, bridging virtual and physical media to redefine the future of publication.
###