January 20, 2014
Press Release: Carnegie Mellon Music Professor Reza Vali To Premiere Work for PSO's "Elements" Series
Contacts: Dana Casto / School of Music / 412-268-4921 / dcasto@cmu.edu       
                Pam Wigley / Media Relations / 412-889-6238 / pwigley@andrew.cmu.edu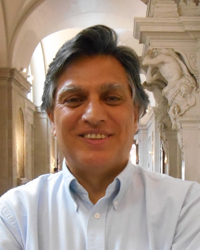 PITTSBURGH—"Ravân," an orchestral work by Carnegie Mellon University Professor of Composition Reza Vali, will be premiered by the Pittsburgh Symphony Orchestra (PSO) Feb. 7, 8 and 9 at Heinz Hall in Pittsburgh.
"Ravân" will be one part of "Elements," a five-movement commission of the PSO. Each movement, composed by a Pittsburgh composer, concentrates on one element. Vali's work focuses on water.
"I chose water as my element for this work because I was inspired by the wild waters of the Youghiogheny River," Vali said.
The concerts featuring Vali's work will be at 8 p.m., Friday and Saturday (Feb. 7-8), and 2:30 p.m., Sunday (Feb. 9). 
Tickets can be purchased at http://www.pittsburghsymphony.org/pso_home/web/contact.
###