January 13, 2014
Press Release: Carnegie Mellon Alumni Release Horror Film; "Banshee Chapter" To Premiere in Pittsburgh Jan. 30
Tickets Available Through Online Reservations
Contact: Pam Wigley / 412-268-1047 / pwigley@andrew.cmu.edu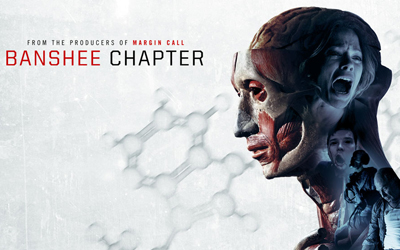 PITTSBURGH—Scary things happen, but none may give you the willies like "Banshee Chapter," the latest film from Carnegie Mellon University alumni who are partners in the production company Before the Door Pictures.
The three friends and graduates of the School of Drama's Class of 2000 — Corey Moosa, Neal Dodson and Zachary Quinto — are the team members behind hits like "Margin Call" and the fall 2013 Robert Redford release "All Is Lost." (Redford was nominated for a 2014 Golden Globe Best Actor Award for his standout performance.)
For "Banshee Chapter," the partners served in various roles and enlisted several former classmates. Moosa and fellow School of Drama alumna Stephanie (Gaultney) Riggs (A'00) served as producers; Dodson and Quinto served as executive producers. The film was written and directed by School of Art alumnus Blair Erickson and stars drama alum Michael McMillian (A'00) of HBO's "True Blood." Moosa said the same group worked on a short version of the film when they were students in 1999 and entered it in the CMU Film Festival.
The film will be screened at 7:30 p.m., Thursday, Jan. 30, at Southside Works Cinema in Pittsburgh. People who want to attend must reserve a ticket online at http://gathr.us/screening/6744. The film's distributors require a minimum of 40 reservations by Thursday, Jan. 16, for the film to be shown.
"Having a successful viewing in Pittsburgh is going to allow us to open the film to a larger domestic audience over the next two months," said Moosa, who's hoping for a large local crowd, especially people from the group's alma mater. "We would love for the film to prove a hit in Pittsburgh."
You can view the film's trailer at bansheechapter.com.
###