February 27, 2014
Press Release: Carnegie Mellon's International Film Festival Brings 12 Award-Winning Films to Pittsburgh March 20-April 5
"Faces of Work" Reflects Late CMU Professor and Filmmaker Paul Goodman's Focus on Workers Worldwide
Contact: Shilo Rea / 412-268-6094 / shilo@cmu.edu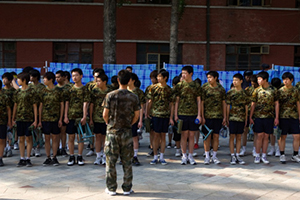 PITTSBURGH—The 2014 Carnegie Mellon University International Film Festival will bring 12 award-winning independent films with ties to 20 countries to various locations throughout Pittsburgh, March 20 through April 5. This year's festival theme, "Faces of Work," reflects the late CMU professor and filmmaker Paul Goodman's focus on the challenges and achievements of diverse groups of workers worldwide.
"Paul's dedication to emphasizing global awareness in his teaching and research, and exploring the theme of work in both international and local Pittsburgh communities prompted his desire to highlight the important but often overlooked aspects of work using one of his favorite teaching mechanisms — filmmaking," said Jolanta Lion, director of the film festival and assistant director of the Humanities Center in the Dietrich College of Humanities and Social Sciences. "'Faces of Work' takes its inspiration from Paul's vision. The international roster of films will provide a visual examination and interpretation of global working conditions and spaces as well as the people in them."
Lion, who has been at the helm of the festival for all previous eight seasons, has created a different event to accompany each film screening by bringing in someone associated with the film — in many cases the director — as well as organizing panel discussions, presentations and culinary displays relevant to the particular film's themes.
For example, the festival's opening night at 7:15 p.m., Thursday, March 20, at the Regent Square Theater features the 2013 Polish film "Walesa: Man of Hope." The film is a biopic of Lech Walesa, the Nobel Peace Prize-winning former leader of Poland who was instrumental in the collapse of communism. Walesa's wife and former first lady of Poland, Danuta Walesa, will attend the screening and answer questions about the film's portrayal of her and how it presents a different picture of what happened than what was thought at the time. A second screening will take place at 4:30 p.m., Sunday March 23 in CMU's McConomy Auditorium, which the former first lady also will attend. S&D Polish Deli will cater the events.
"Walesa: Man of Hope" won awards at the 2013 Chicago International Film Festival and 2013 Venice Film Festival, and the CMU festival is the film's premiere in Pennsylvania.
Other festival highlights include the U.S. premiere of Goodman's final film, "Shipbreakers," at 7:15 p.m., Friday, March 21 in McConomy Auditorium. CMU's Ralph Vituccio and Tom Clancey, an award-winning cinematographer whose resume includes Hollywood blockbusters like "Fast & Furious," finished the film with the blessing of Goodman's widow, Denise Rousseau, the H.J. Heinz University Professor of Organizational Behavior and Public Policy.
"Shipbreakers" is mostly set in Alang, India, where there is a six-mile stretch of an oily, smoky beach where huge ocean vessels that are no longer seaworthy are run aground, broken apart and stripped of everything from portholes and paneling to furniture and propellers. Forty thousand migrant workers making $1-2 per day do the scrapping. They cut the ships apart by hand, working in extremely dangerous conditions and without any safety or labor regulations. The film brings the process of shipbreaking to life and highlights the human rights and environmental issues involved.
Vituccio, assistant teaching professor in the Entertainment Technology Center who has won several awards for films and interactive media work on topics including racism, conflict management, art history and military service, will attend the screening. A panel discussion also will take place with local experts examining the issues the film raises.
At 7:15 p.m., Saturday, March 22, "Web Junkie" will be shown in CMU's McConomy Auditorium. The Israeli, American and Chinese film was nominated for the Grand Jury Prize at the 2014 Sundance Film Festival and is a documentary about young people in China who are addicted to the Internet and technology. The film follows adolescents as they enter — at the request of their parents — a Beijing Military facility where incessant gaming and Internet use is treated as a disease. Actual therapy sessions — both group and one-on-one — are shown, and the "addicts" explain why they find more pleasure in the virtual world than the real world. One of the film's directors, Israel's Shosh Shlam, is scheduled to appear.
Over the past eight years, CMU's International Film Festival has gained prestige and a massive audience following. The National Endowment for the Arts (NEA) has taken notice and awarded the festival a highly competitive grant to support this year's festival and event activities.
"Faces of Work" is organized by Carnegie Mellon's Humanities Center. It is sponsored by the estate of Paul Goodman, NEA, Fine Foundation, Art Institute of Pittsburgh, University of Pittsburgh, Point Park University, Carlow University, Robert Morris University, Pittsburgh Filmmakers, Consulate General of the Republic of Poland in New York, LOT Polish Airlines, Polish Falcons of America, WPTS and Pittsburgh City Paper.
CMU departments and organizations that are supporting the 2014 festival include the Humanities Scholars Program, Science and Humanities Scholars Program, Center for the Arts in Society, Tepper School of Business, Undergraduate Student Senate, Division of Student Affairs, School of Art, Master of Entertainment Industry Management, Master of Arts Management, Center for Africanamerican Urban Studies and the Economy (CAUSE), Center for International Policy and Innovation, Entertainment Technology Center, African Business Collective and the Sembene Film Festival.
Opening night (March 20) general admission tickets to the film and reception are $15 and $10 for seniors and students. General admission tickets for all other screenings are $8 and $5 for seniors and students. A full-access festival pass can be purchased for $50 ($25 for seniors and students.)
For a complete festival schedule, to watch the film's trailers and to reserve tickets, visit http://www.cmu.edu/faces/.
Related Article: "Shipbreakers" Film Documents Dangerous Scrapping Work
###
Pictured above is a scene from "Web Junkie," one of 12 award-winning independent films that will be showing in Pittsburgh during the 2014 CMU International Film Festival March 20 through April 5. "Web Junkie" follows adolescents as they enter — at the request of their parents — a Beijing Military facility where incessant gaming and Internet use is treated as a disease.