February 24, 2014
Press Release: Carnegie Mellon's Marlene Behrmann To Receive Cowan Professorship in Cognitive Neuroscience
Contact: Shilo Rea / 412-268-6094 / shilo@cmu.edu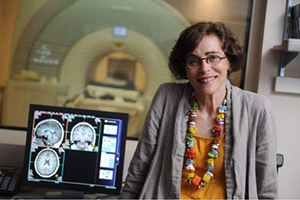 PITTSBURGH—Carnegie Mellon University's Marlene Behrmann will receive the George A. and Helen Dunham Cowan Professorship in Cognitive Neuroscience in recognition of her outstanding contributions to understanding the psychological and neural bases of visual processing.
Behrmann joined the Department of Psychology faculty in 1993 and is widely considered to be one of the foremost experts in the cognitive neuroscience of visual perception. In January, she became CMU's co-director of the Center for the Neural Basis of Cognition (CNBC), a joint institute between Carnegie Mellon and the University of Pittsburgh devoted to investigating the neural mechanisms that give rise to human cognitive abilities. The center integrates the basic and clinical neurosciences with cognitive and computational sciences across the two universities and sponsors a highly successful interdisciplinary graduate training program.
"Marlene Behrmann is a gifted researcher, educator and leader, and her work in cognitive neuroscience, especially visual perception, is of great importance because it is not only laying a foundation for understanding many aspects of human cognition but is also deepening our understanding of disorders like autism and face blindness," said John Lehoczky, dean of the Dietrich College of Humanities and Social Sciences. "Under Marlene's direction, I fully expect the CNBC to continue to make crucial discoveries that impact human lives."
Behrmann's research combines behavioral investigations and brain imaging techniques with both normal and impaired individuals to identify the areas of the brain that are responsible for visual perception. For example, she explores how the brain quickly and seemingly effortlessly works to recognize different people by their face and how the brain differentiates between different objects.
She also uses brain imaging to uncover what is happening in the brains of individuals with developmental disorders, such as autism and dyslexia. Her work identified a weaker brain "sync" between the brain's two hemispheres in autistic children that could enable an autism diagnosis at a very young age. Also, by showing that autistic adults have unreliable sensory responses to visual, auditory and somatosensory stimuli, Behrmann took the first step toward deciphering the connection between general brain function and the emergent behavioral patterns in autism.
"This is a well-deserved honor. I have known Marlene since she arrived at Carnegie Mellon, and she has been one of CMU's major contributors to our efforts to study the link between human behavior and the brain. She is a highly energetic and dedicated scientist who pushes past boundaries to make crucial discoveries. Her work in autism is having a huge impact on how we understand the disorder and its relationship to the brain. CMU, the CNBC, Pittsburgh and the field of cognitive neuroscience are lucky to have her," said Michael J. Tarr, head of the Department of Psychology.
Behrmann has authored more than 200 articles and chapters and has edited three books. She is a fellow of the American Psychological Society, the International Neuropsychological Symposium (INS) and the Society for Experimental Psychologists, and has been a member of many editorial boards including "Psychological Review" and "Psychological Science."
Her professional service includes roles in the INS and the Society for Neuroscience, and she has served on review panels for the National Institutes of Health, National Science Foundation, the Binational Science Foundation and Israel Science Foundation, among others.
Behrmann has received many awards for her numerous scientific contributions, including the Presidential Early Career Award for Engineering and Science, the American Psychological Association Distinguished Scientific Career Award for Early Career Contributions and the Early Career Award in Neuropsychology.
She received her bachelor's and master's degrees in speech pathology from the University of Witwatersrand, Johannesburg, South Africa, and a doctoral degree in psychology from the University of Toronto.
George and Helen Cowan shared many interests, including enhancing children's abilities to learn. At the Santa Fe Institute, which George Cowan co-founded in 1984 to foster interdisciplinary research in complex adaptive systems, he used neuroscience to study the relationship between physiological changes in children's brains and their behavioral development.
Cowan perceived the CNBC's cutting-edge potential early in its existence and served as an advisory board member and guiding force until his death. He brought a distinguished background in research, business and community leadership to his Carnegie Mellon service.
Behrmann will officially receive the Cowan Professorship at a ceremony from 4-6 p.m., Wednesday, March 5 in CMU's Alumni Concert Hall in the College of Fine Arts Building. A panel discussion on "How Do We Recognize a Chair: The Cognitive Neuroscience of Vision" will follow, featuring CMU's David Plaut, New York University's David Heeger and Brown University's David Sheinberg.
For more than 50 years, Carnegie Mellon researchers have been working to achieve historic breakthroughs in psychology and computational neuroscience to tackle multifaceted problems of human thought, such as how we solve problems, learn mathematics or make financial decisions, and how these thought processes can be improved.
CMU research on brain-behavior relations also includes a major effort in using brain imaging to understand and treat disorders like autism and dyslexia. To build on its foundation of research excellence in psychology, neuroscience and computational science, CMU launched a Brain and Behavior Initiative to enhance the university's ability to innovate in both the laboratory and in the world.
For more information on Behrmann, visit http://www.psy.cmu.edu/people/behrmann.html.
###
CMU's Marlene Behrmann (pictured above) combines behavioral investigations and brain imaging techniques with both normal and impaired individuals to identify the areas of the brain that are responsible for visual perception.