February 19, 2014
Press Release: Carnegie Mellon Engineering Alumna Linda Kaplan Named Pittsburgh's Young Civil Engineer of the Year
Contact: Chriss Swaney / 412-268-5776 / swaney@andrew.cmu.edu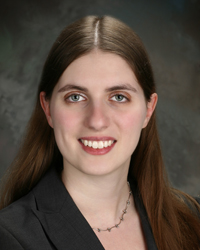 PITTSBURGH—Linda Kaplan's love affair with bridges began in fifth grade in Armonk, N.Y., where she successfully built a toothpick bridge that was able to hold her weight.
More than 20 years later, Kaplan is still working with bridges, only now she's designing them as an engineer for Gannett Fleming in Pittsburgh. And her peers are taking notice.
On Feb. 22, she will receive the American Society of Civil Engineers (ASCE) Pittsburgh Section 2013 Young Civil Engineer of the Year Award.
"I'm honored and excited to receive this award," said Kaplan, a 2007 graduate of Carnegie Mellon's Department of Civil and Environmental Engineering (CEE). "Engineering was always something that I wanted to do."
The ASCE Award is given to an outstanding young engineer under age 35 who has demonstrated exceptional and innovative work in the field of engineering, is working to advance the profession, and is active in the Pittsburgh Section of ASCE and the community.
"She is simply outstanding, I don't know how she does all that she does," said Karl Sieg, president of Sieg & Associates and past president of the ASCE Pittsburgh Section, which has about 1,800 members. "We have so many outstanding young engineers as members, but Linda stands head and shoulders above."
Dave Dzombak, head of CMU's Civil and Environmental Engineering Department, praised Kaplan for her successful career and for being a role model for volunteer professional service. "Her high level of service commitment to our profession provides an outstanding example to young women considering engineering, to engineering students and to all engineers. She has given many hours of her time to engage students and young engineers in the activities of the ASCE Pittsburgh Section. We are very proud of our accomplished and hard working alumna," Dzombak said.
As of 2011, only about 20 percent of STEM majors were female, and only 13 percent of all engineers nationwide are women, according to the U.S. Census Bureau. And a recent survey has found that women quit STEM jobs 45 percent more frequently in their rookie year than men.
Kaplan, who has been involved with ongoing work to improve Pittsburgh's Squirrel Hill tunnels and the Hulton Bridge in Oakmont, also volunteers to educate local students about civil engineering.  She said she tries to stress the importance of problem-solving and creativity when she discusses engineering as a career.
"I want young women to realize it's not only about the math, but more about creatively solving problems to improve our everyday lives. Sometimes the best answer isn't always the most obvious or the way things have been done before. Engineering is fun and I want more people to understand and appreciate that fact," Kaplan said.
###
Honored by the ASCE for her exceptional and innovative work, Linda Kaplan (pictured above) is a 2007 graduate of CMU's Civil and Environmental Engineering program.