August 08, 2014
Press Release: Five Recent Carnegie Mellon Graduates Receive Fulbright Awards To Teach, Conduct Research Abroad
Contact: Abby Simmons / 412-268-4290 / abbysimmons@cmu.edu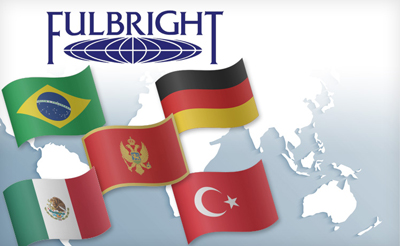 PITTSBURGH—From addressing clean water shortages in urban Mexican communities to teaching English in Brazil, Germany, Montenegro and Turkey, five recent Carnegie Mellon University graduates will be making a global impact through this year's Fulbright U.S. Student Program.
The U.S. Department of State's Bureau of Educational and Cultural Affairs sponsors the program to "increase mutual understanding between the people of the United States and the people of other countries." It provides fellowships for U.S. graduating seniors, graduate students, young professionals and artists to study abroad for one academic year.
"We are immensely proud of this year's finalists and awardees. The Fulbright distinction is a culmination of very intentional choices that they made during their time at Carnegie Mellon. Each of them has carved out a distinct undergraduate experience that combines rigorous study and scholarly inquiry with a deep intellectual curiosity about their role as scholars and citizens in a global community," said Joanna Dickert, Fulbright program adviser and assistant director of the Office of the Dean of Student Affairs.
CMU's Fellowships and Scholarships Office guides students and alumni through the application process for prestigious national and international awards. The university has been home to 52 Fulbright student scholars since 1994.
The following are profiles of this year's winners, who earned degrees from the Dietrich College of Humanities and Social Sciences and College of Fine Arts.
Nina Mast, Class of 2014
Fulbright grant: English Teaching Assistantship in Turkey
Major: International Relations and Politics
Hometown: Reading, Pa.
Mast on her award: "Having studied Arabic in Morocco and Jordan, I decided to apply for a Fulbright to Turkey because of its simultaneous similarities to and departures from traditional Islamic societies, its unique combination of modernity and history, and its political and ethnic diversity. At the same time, teaching English as a foreign language has been an interest of mine for several years, so this opportunity felt like a natural fit."

Rachel Kuhn, Class of 2014
Fulbright grant: English Teaching Assistantship in Germany
Majors: Global Studies and German Studies
Hometown: Bloomingdale, Ill.
Kuhn on her award: "I decided to apply for the Fulbright because it seemed like a great opportunity to live abroad while doing meaningful work. Working for the past year as a tutor for CMU's German Studies Department has taught me skills that will be useful for teaching English. I also hope to get involved in my community and improve my German language skills."
Paulina Reyes, Class of 2014
Fulbright grant: Research grant in Mexico City, Mexico
Major: Architecture
Hometown: Austin, Texas
Reyes on her award: "I chose to apply for the Fulbright as a means of advancing my interests in humanitarian design, and as a way to reconnect and better understand my own roots as a Mexican and second-generation immigrant. My proposal addresses the architectural implications of water contamination and shortage faced by marginalized urban communities in Mexico City. Through this research I look to gain valuable skills in direct community engagement, cultural adaptability, and mediation across various teams and management structures, practicing communication between cultures and public-private partnerships."

Gabriella Rueda, Class of 2013
Fulbright grant: English Teaching Assistantship in Brazil
Major: Global Studies
Resides in: Saint Johns, Fla.
Rueda on her award: "I've always had an interest in Latin American history and culture due to my Ecuadorian heritage. Upon graduation, I not only knew that I wanted to live in Latin America, I also was interested in gaining more experience in the field of education. I think that the unique courses that I was able to take as a Global Studies major played a seminal role in preparing me for a post-graduate experience with a Fulbright. Likewise, I am grateful for the professors in my field who encouraged me to think with a more critical eye."

Mackenzie Evan Smith, Class of 2011
Fulbright grant: English Teaching Assistantship in Montenegro
Major: Creative Writing
Resides in: San Francisco
Smith on her award: "I will be teaching English courses at the University of Montenegro and facilitating creative writing workshops focused on identity. At Carnegie Mellon, I was an Arabic teaching assistant and worked as an academic tutor. Both of these experiences gave me the foundational skills needed to teach English language learners. More importantly, my studies at Carnegie Mellon asked me to be intellectually curious and to explore ideas and perspectives different from my own."

Zachary Urbach (S'14) and Evan Shimizu (CMU'14) were named alternates for experiences in Germany and Finland, respectively.

###