August 21, 2014
Press Release: Former Carnegie Mellon Computer Science Dean Now Assisting in White House Policy Office
Randal E. Bryant Led School of Computer Science for 10 Years
Contact: Byron Spice / 412-268-9068 / bspice@cs.cmu.edu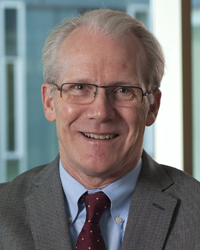 PITTSBURGH—Randal E. Bryant, who finished a decade of service as dean of Carnegie Mellon University's School of Computer Science on June 30, has begun a temporary assignment in the White House's Office of Science and Technology Policy (OSTP) to provide analysis and advice on Big Data.
Bryant, who is on sabbatical from his position as University Professor of Computer Science, expects to spend 10-12 months in the OSTP's Technology and Innovation Division, where he is working as an adviser to Thomas Kalil, deputy director of policy.
"My plan is to work on initiatives involving the application of large-scale information sources to enable more efficient and effective government operations," Bryant said, "as well as ways in which the federal government can foster the use of Big Data in society."
In his role as assistant director for information technology research and development, Bryant's areas of focus will include the application of data-driven approaches to areas such as health and education. He also will address privacy concerns that arise from the large-scale collection of data, both by fostering innovation in technical methods to preserve privacy and by identifying procedural methods to ensure privacy concerns are addressed in any proposed use of Big Data.
"I hope that my efforts at the OSTP will lead to more effective and appropriate use of information technology by the U.S. government," Bryant said, "as well as fostering early stages of research efforts that will yield technology that addresses the government's and the nation's IT needs."
As dean of SCS since 2004, Bryant championed new research initiatives in data-intensive computing, urging the academic computer science community to make it a research priority. He also worked to increase the resources available for this work; in 2007, for instance, SCS became the first school to get its researchers access to a dedicated Yahoo computing cluster.
Bryant's own research has focused on developing computer-aided design tools that simulate and verify digital circuits - seminal work for which he was honored with major awards from several professional societies, as well as membership in the National Academy of Engineering and the American Academy of Arts and Sciences.  A faculty member since 1984, he continued to teach undergraduate courses while he was dean. Along with David R. O'Hallaron, CMU professor of electrical and computer engineering and computer science, he authored the textbook "Computer Systems: A Programmer's Perspective," now in its second edition and in use in over 240 institutions worldwide.
During his tenure, the number of SCS undergraduate applications more than tripled and combined undergraduate and graduate enrollment reached 1,686, an increase of more than 50 percent. Annual research funding more than doubled to $99 million. The first Machine Learning Department was launched and the Lane Center for Computational Biology became a seventh academic unit within the school.
A new $98.6 million home for the school, the 217,000-square-foot Gates and Hillman centers, was designed and built during his term. Several major research projects began, including the National Science Foundation's Quality of Life Technology Center and a $10 million partnership with Yahoo Labs to advance personalization of mobile devices.
The School of Computer Science, now celebrating its 25th year, once again has received the highest possible score in U.S. News & World Report's ranking of Ph.D. programs in computer science. Andrew W. Moore, until recently a vice president at Google, has succeeded Bryant as SCS dean. Follow the school on Twitter @SCSatCMU.

###
Randal E. Bryant (pictured above), expects to spend 10-12 months in the OSTP's Technology and Innovation Division, where he is working as an adviser to Thomas Kalil, deputy director of policy.