August 12, 2014
News Brief: Mapping America's Energy Future
Carnegie Mellon-led Team Authors Guide for Managing, Implementing Variable Energy Resources
Contact:  Tara Moore / 412-268-9673 / tararaemoore@cmu.edu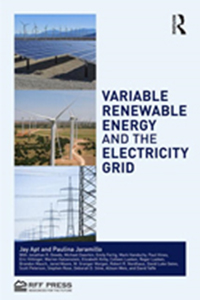 PITTSBURGH—Carnegie Mellon University's Jay Apt and Paulina Jaramillo led a team of 22 researchers in a review and analysis of the technical and policy options available for integrating variable energy resources — such as wind and solar power — into the existing power system. Their new book, "Variable Renewable Energy and the Electricity Grid," is part of the RenewElec project and addresses how the United States could increase the amount of electricity it produces from renewable energy sources.
"It is likely that the proportion of electricity generation supplied by wind and solar power can increase by about five- to tenfold or a bit more, from the present 4 percent to 20 or 30 percent," writes Apt, director of the Carnegie Mellon Electricity Industry Center and a professor in the Tepper School of Business and the Department of Engineering and Public Policy (EPP).
"In 2012, California's three major investor-owned utilities were able to meet a required mandate of supplying their customers with 20 percent of their energy from renewable sources. California's 2020 target is 33 percent."
In 2009, Apt, Jaramillo, an assistant professor in EPP, and the RenewElec project team set out to take an objective look at the implications of introducing high levels of renewable electricity into the United States power system. The team surveyed previous research, held two workshops, and performed a series of engineering and economic analyses to provide a foundation for recommending necessary policy changes.
Their research was prompted by one of the most cumbersome hurdles to integrating renewable energy generation into the present power system: its variability. Wind, solar and hydroelectric power cannot be relied on to provide consistent electricity to users.
"Because rainfall varies from year to year, so does the water available for hydroelectric generation," writes Apt. "Other renewable sources are also variable. The wind blows strongly at times, but calms can set in and persist for days. Clouds can cover the sun for a moment or hours."
Variability can cause serious disruptions to power system operation — and opponents to increased renewable generation argue that even levels as low as 10 percent can cause major problems.
To try to understand this variability, Apt, Jaramillo and their team used the output data they acquired from wind and solar plants to try to understand mathematically how energy collections from wind and solar fluctuate.
The book is meant to be an opening of a conversation: a map to America's energy future.
"As the United States continues on its path of increasing the market share of renewable electricity," Apt writes, "this book is designed to help guide legislators, power system operators, environmental NGOs, and the general public to the smooth adoption of significant amounts of electric generation from variable and intermittent sources of renewable power."
Read about the team's findings here: http://wpweb2.tepper.cmu.edu/rlang/RenewElec/book.html.
###