April 07, 2014
Press Release: CMU Selects Farnam Jahanian, Accomplished Scientist and Successful Entrepreneur, as VP of Research
Contact: Ken Walters / 412-268-1151 / walters1@andrew.cmu.edu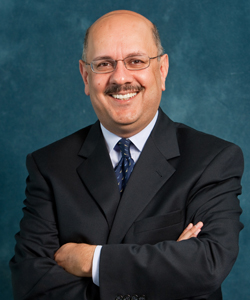 PITTSBURGH—Carnegie Mellon University has selected Farnam Jahanian, an accomplished computer scientist and a successful entrepreneur with extensive leadership and administrative experience in higher education, government and the private sector, as its new vice president of research, effective Sept. 1, 2014.
Jahanian is the Edward S. Davidson Collegiate Professor of Electrical Engineering and Computer Science at the University of Michigan at Ann Arbor, where he served as chair for Computer Science and Engineering from 2007 to 2011 and as director of the Software Systems Laboratory from 1997 to 2000. Since 2011 he has been on leave as the National Science Foundation's assistant director for Computer and Information Science and Engineering (CISE).
"Farnam brings to CMU a wealth of expertise and leadership skills, not only in supporting and nurturing research within and across disciplines, but also in translating research into innovative tools and technologies that succeed in the marketplace," said CMU President Subra Suresh. "His experience with the full spectrum of research, from basic scientific inquiry to applied research aligned with strategic national initiatives and global challenges, to technology transfer and commercialization, positions him to help in further expanding CMU's world class innovation and entrepreneurial ecosystem."
Jahanian leads the NSF CISE Directorate, with a budget of over $890 million, in its mission to promote scientific discovery and engineering innovation through support of fundamental research in computer and information science and engineering together with transformative advances in cyber-infrastructure. Working with the White House Office of Science and Technology Policy, during Jahanian's tenure the CISE Directorate has led several national research and development (R&D) initiatives, including the National Robotics Initiative, National Big Data R&D Initiative and US Ignite.
Jahanian also serves as co-chair of the Networking and Information Technology Research and Development (NITRD) Subcommittee of the National Science and Technology Council Committee on Technology, providing overall coordination for the information technology R&D activities of 17 government agencies.
"I look forward to joining the Carnegie Mellon community and advancing the research enterprise at one of the world's elite universities," Jahanian said. "I have been deeply impressed by the culture of creative, collaborative problem solving that characterizes Carnegie Mellon. The way in which science and technology are intertwined with social science, arts and humanities at CMU creates a nurturing environment for discoveries that advance human knowledge and the human condition. I am also excited to work with faculty, students and stakeholders in the innovation ecosystem to accelerate research from the lab to the marketplace, helping to create new jobs and increase economic vitality."
Jahanian's work on network routing and security formed the basis for the Internet security company Arbor Networks, which he co-founded in 2001 and where he served as chairman until its acquisition in 2010. Prior to joining the faculty at Michigan, he was a research staff member at the IBM T.J. Watson Research Center in New York.
Jahanian has received numerous honors for his scholarly research, commitment to education and technology commercialization impact, including the Amoco Foundation Teaching Award (2000), DARPA Innovation Award (2000), Governor's University Award for Commercialization Excellence (2005) and an Association for Computing Machinery (ACM) SIGCOMM Test of Time Award (2008). He was named the University of Michigan "Distinguished University Innovator" in 2009 and "Entrepreneur of the Year" by New Enterprise Forum in 2010. Jahanian is a Fellow of the ACM, the Institute of Electrical and Electronic Engineers, and the American Association for the Advancement of Science.
Jahanian holds a master's degree and doctorate in computer science from the University of Texas at Austin. He and his wife, Tris, have three children: Daniel, Thomas and Sara.

###
Since 2011, Farnam Jahanian (pictured above) has been the National Science Foundation's assistant director for Computer and Information Science and Engineering (CISE).