April 23, 2014
Press Release: Carnegie Mellon School of Art's "Cluster Truck" Makes Art Galleries Out of 20-Foot U-Hauls
Contacts: Pam Wigley / 412-268-1047 / pwigley@andrew.cmu.edu
                Lauren Goshinski / 412-268-1533 / laurengo@andrew.cmu.edu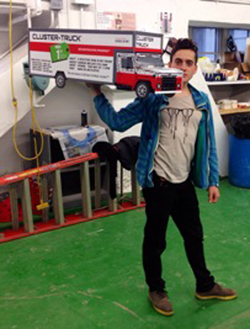 PITTSBURGH—Carnegie Mellon University's School of Art presents "Cluster Truck," an outdoor art installation in which eight undergraduate student artists will use their own 20-foot U-Haul truck as their personal gallery to showcase performances, sculptural installation and participatory works. The event is one night only, from 5 - 8 p.m., Thursday, May 1, on the CMU College of Fine Arts lawn.
As part of the Advanced Sculpture, Installation, Sitework course "Simulation and Perception," each artist is given a rental truck to create an installation that considers site, methods and audience. Some artists will ask for the audience to interact with their trucks, others may simply offer a causal viewing experience from afar. The opportunity to work on a large-scale ephemeral project like this is just one of the dynamic opportunities that the "Simulation and Perception" class provides.
Led by Visiting Professor of Art Joshua Reiman, the exhibiting artists are Melissa Bryan, Gryphon Drake, Hannah Gaskill, Robb Godshaw, Daniel Kim, Maggy Navin, Veda Sun and Leah Wulfman.
Learn more from the class blog: http://cmusimulationperception.wordpress.com.

###