April 01, 2014
Media Advisory: Carnegie Mellon's School of Architecture Hosts Marcin Jakubowski, Founder of Open Source Ecology
Contact: Michelle Bard / School of Architecture / mbard@andrew.cmu.edu
               Pam Wigley / College of Fine Arts/ 412-268-1047/  pwigley@andrew.cmu.edu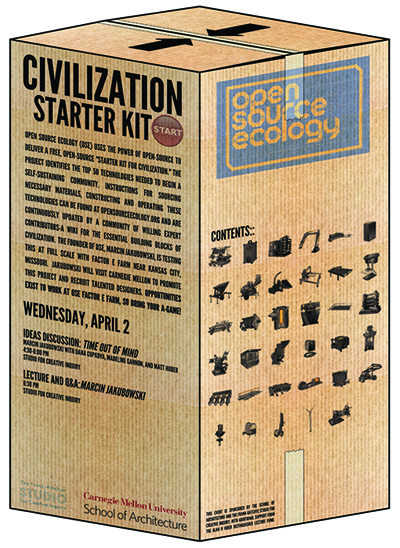 Event: Carnegie Mellon University's School of Architecture and the Frank-Ratchye STUDIO for Creative Inquiry will host an evening of conversation with Marcin Jakubowski, founder and executive director of Open Source Ecology.

Jakubowski is a Princeton-trained fission-physicist-turned-farmer. He is using the power of the DIY movement to deliver a free, open-source "starter kit for civilization." After watching his expensive tractor break down time and again, Jakubowski was determined to build his own. The results? A product that was several times less expensive and more reliable than its industrially produced counterparts, and Jakubowski published the production instructions for anyone to use.
Thus was born Open Source Ecology, which aims to develop a set of easy-to-follow, open source blueprints for the 50 machines most essential for modern life (including an automobile, an induction furnace and a bakery oven). The 50 machines comprise the Global Village Construction Set, a "lifesize, scalable, modular LEGO construction set" for building modern life.

Jakubowski and Open Source Ecology seek to create modern-day civilization (with all of its conveniences) from scratch, on small plots of land, using almost exclusively local materials. They're testing the feasibility of this concept on "Factor e Farm," a 30-acre parcel of land near Kansas City, Mo.

Jakubowski's ideas and work have earned him international acclaim, including distinction as a TED Senior Fellow, a Shuttleworth Foundation Fellow and a White House Champion of Change. He has been profiled by news outlets and academic journals worldwide.

During Jakubowski's visit to Carnegie Mellon, he will first participate in a panel discussion with School of Architecture faculty members Dana Cupkova, Madeline Gannon and Matt Huber about the social responsibility of digital design. Then he'll offer a lecture and participate in a Q&A session about his work with Open Source Ecology and Factor e Farm.
Jakubowski also seeks to meet one-on-one with talented designers, creators and thinkers interested in helping kickstart Factor e Farm as the first full-scale implementation of Open Source Ecology.

For more information, visit Open Source Ecology and the Carnegie Mellon University School of Architecture.

When: 4:30-6:30 p.m., Wednesday, April 2. Panel discussion with School of Architecture faculty and Jakubowski; lecture and Q&A with Jakubowski at 6:30 p.m.

Where: Frank-Ratchye STUDIO for Creative Inquiry, College of Fine Arts Room 111, Carnegie Mellon University.

# # #