April 14, 2014
Press Release: Feature Film Based on Carnegie Mellon Brain Research To Screen On Campus
Film Director Mark Lund and Star Vernon Aldershoff Will Join CMU's Marcel Just for a Q&A Following the Screening
Contact: Shilo Rea / 412-268-6094 / shilo@cmu.edu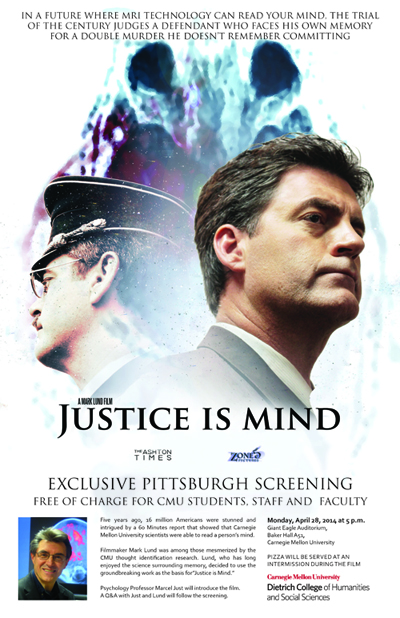 PITTSBURGH—Five years ago, 16 million Americans were stunned and intrigued by a "60 Minutes" report that showed Carnegie Mellon University scientists were able to read a person's mind.
Filmmaker Mark Lund was among those mesmerized by the CMU thought identification research. Lund, who has long enjoyed the science surrounding memory, decided to use the groundbreaking work as the basis for his next feature film. "Justice Is Mind" will screen without charge for the CMU and Pittsburgh communities at 5 p.m., Monday, April 28 in Baker Hall's Giant Eagle Auditorium (A51).
"It's extremely encouraging that someone was moved by our research to the point that they based a movie on its possible implications," said Marcel Just, the D.O. Hebb University Professor of Psychology in the Dietrich College of Humanities and Social Sciences who appeared in the "60 Minutes" episode with his CMU colleague Tom Mitchell. "It will be exciting for our students and others at Carnegie Mellon to see how the work we're doing in the lab — and making really new discoveries day after day — can potentially affect our lives in the future, for good and for bad."
"Justice Is Mind" follows the double-murder trial of a defendant who doesn't remember committing the crimes. It's set in a time when fMRI technology is readily used to decode a person's thoughts, similar to how Just and Mitchell apply machine-learning techniques to brain imaging data to identify the contents of an individual's thoughts of concrete objects. The film invents a future world in which memories can be read out from the brain, as opposed to decoding a currently occurring thought, as Just and Mitchell originally discovered. More recently, Just and CMU's Karim Kassam and George Loewenstein used similar techniques to identify the emotions a person is experiencing based on their brain activity.
The film addresses some of the key questions concerning the implications of this technology for the legal system. Much of the concept of a criminal act depends on the state of mind of the accused. The new technology raises the possibility that psychological factors such as intent or fear for one's life may be decodable from a defendant's brain. It also raises the question of privacy and its potential for invasion by future technologies.
"When I first saw the '60 Minutes' episode on mind reading, I instantly envisioned a story in which a defendant's memory is being introduced as evidence in his own trial creating a firestorm of social, legal and constitutional issues around privacy," said Lund, the film's writer and director. "I believe what makes 'Justice Is Mind' entertaining is the presentation of a new science into the complexities of our legal system that reveals a mysterious element that remains unknown until the end of the movie.  I've long been a proponent of the sciences and it is indeed an honor to screen 'Justice' at CMU which brings the film to its origins."
Just will introduce the film, and following the screening Just and Lund will answer questions. Film star Vernon Aldershoff also will attend the screening. Free pizza and refreshments will be available during an intermission.
For more than 50 years, Carnegie Mellon researchers have been working to achieve historic breakthroughs in psychology and computational neuroscience to tackle multifaceted problems of human thought, such as how we solve problems, learn mathematics or make financial decisions, and how these thought processes can be improved.
CMU research on brain-behavior relations also includes a major effort in using brain imaging to understand and treat disorders like autism and dyslexia. To build on its foundation of research excellence in psychology, neuroscience and computational science, CMU launched a Brain and Behavior Initiative to enhance the university's ability to innovate in both the laboratory and in the world.
###
"Justice Is Mind" will screen without charge for the CMU and Pittsburgh communities at 5 p.m., Monday, April 28 in Baker Hall's Giant Eagle Auditorium (A51).