September 09, 2013
Press Release: Carnegie Mellon's Erica Fuchs Named to Top 40 Under 40 by Prestigious World Economic Forum
Contact: Chriss Swaney / 412-268-5776 / swaney@andrew.cmu.edu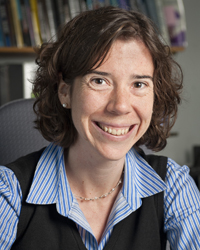 PITTSBURGH—Carnegie Mellon University's Erica Fuchs has been named a "Top 40 under 40  Young Scientist" by the World Economic Forum and the InterAcademy Panel on International Issues, a global network of the world's science academies. The award will be presented Sept. 11 in China at the World Economic Forum's Summer Davos.
"It's an extraordinary opportunity and honor to be recognized by such an elite group of global leaders," said Fuchs, an associate professor in the Department of Engineering and Public Policy (EPP) at CMU. "I am greatly looking forward to meeting the other Young Scientists as well as the other Young Global Leaders at Summer Davos, and through interaction with the other participants improve our work on how national differences influence the rate and direction of innovation, and how countries can leverage these differences to advance innovation and social welfare both locally and globally."
The Young Scientists are selected from nominations by 100 academies of science throughout the world. They convene once a year during the World Economic Forum's Annual Meeting of the New Champions. Fuchs also will be speaking on strategic shifts in the manufacturing ecosystem.
"This is a wonderful recognition of Erica's work that uniquely combines technical and economic analysis to better understand issues of national competitiveness," said M. Granger Morgan, a University Professor who holds the Thomas Lord Chair in Engineering and is head of EPP and director of CMU's Scott Institute for Energy Innovation. "The accolade helps showcase her work about how the U.S. might once again become simultaneously cost competitive and innovative in the manufacture of technology products."
Fuchs' work focuses on the role of government in technology development and the effect of location on the competitiveness of new technologies.
A pioneer in rethinking national innovation systems, Fuchs continues to play a growing role in national meetings on the future of U.S. advanced manufacturing, including advising the President's Council of Advisors on Science and Technology during a one-day workshop and welcoming President Obama during his 2011 trip to CMU to announce the national Advanced Manufacturing Partnership.
She also has been awarded a National Science Foundation Early Career Award for her competitiveness research and an Early Career Dean's Fellow in 2013 from CMU's College of Engineering for her research on how manufacturing and product development differ when undertaken in the U.S. versus China and other areas of Southeast Asia. She also earned an Oak Ridge Associated Junior Faculty Fellow (2008) for her research on the impact of offshoring on technology directions.
Before coming to CMU, Fuchs completed her Ph.D. in engineering systems at MIT in 2006. She received her master's and bachelor's degrees from MIT in technology policy (2003) and materials science and engineering (1999), respectively. She spent 1999-2000 as a fellow of the United Nations in Beijing, China. There she conducted research at state-owned industrial boiler manufacturers on policies to encourage innovation.
She has published in a wide range of outlets, including the Journal of Lightwave Technology, Composite Science and Technology, Research Policy and Management Science. Her work has been covered on National Public Radio (NPR) and by The New York Times.
Fuchs currently serves on the U.S. Advisory Committee to the International Commission for Optics and previously served on the National Research Council Committee on future trends and challenges in optical science.
In addition to Fuchs, other CMU World Economic Forum participants include University President Subra Suresh and Justine Cassell, the Charles M. Geschke Director of the Human Computer Interaction Institute in the School of Computer Science.
CMU is one of only 25 universities in the world, 11 in the U.S., invited to join the World Economic Forum's Global University Leaders Forum (GULF). Business members of the Forum include the top 1,000 companies from around the world that drive the economy forward and collaborate on shaping global, regional and industry agendas. For more information about CMU and the World Economic Forum, see http://www.cmu.edu/world-economic-forum/.
      
###