September 26, 2013
Press Release: Carnegie Mellon's Master of Arts Management Program Launches New Research Initiative
Arts Management & Technology Laboratory To Provide Online Forum for Student Research
Contacts: Abby Simmons / 412-268-4920 / abbysimmons@cmu.edu
Michael Cunningham / 412-268-6706 / mcunningham@cmu.edu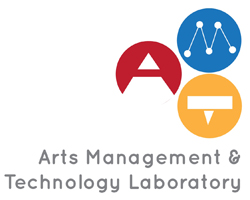 PITTSBURGH—Carnegie Mellon University has launched the Arts Management & Technology Laboratory (AMTLab), a project of its Master of Arts Management (MAM) program that continues the innovative work of the nationally recognized Technology in the Arts research center, formerly the Center for Arts Management and Technology.
AMTLab serves as an exchange, a catalyst for ideas, and a conduit for knowledge by providing current and future arts managers, technologists and researchers with existing best practices and emerging technologies affecting the arts and culture sector.
"Arts organizations are faced with unique challenges when it comes to technology and effective management," said Brett Crawford, executive director of AMTLab. "AMTLab serves as a resource to a field that has few options available to it. Perhaps most importantly, AMTLab stands to help solve critical questions facing today's arts managers and technologists, while also contributing to the innovations necessary for future effective application of technology in the arts management field."
AMTLab explores a range of topics at the intersection of arts, management and technology through a biannual series of student-authored white papers published online at www.amt-lab.org. Throughout the year, the online forum hosts a blog featuring research updates from AMTLab contributors, case studies of arts organizations employing innovative technological approaches, and news summaries of developments affecting the field. Interviews with leading arts management professionals on technological trends, challenges and innovations also appear on the site, along with student reviews of apps, software and other products relevant to the arts industry.
Although serious in its research, AMTLab also embraces the creative whim of the arts in several new editorial tracks, including AMTLab Radio and the recurring series "What's On Your Phone," highlighting monthly smartphone use by leaders in the field.
In addition to the executive director, the initiative is led by two Heinz College graduate students who will serve as chief editor and chief coordinator, and will manage the development and publicity of the site. Eight to 10 research associates will contribute content to the center.
"AMTLab is a perfect and timely complement to the robust arts management education we offer," said Kathryn Heidemann, director of the Master of Arts Management program. "Technology is now a function of all areas of arts management - no longer just IT departments - and this center helps our students as well as the greater arts community understand both the theoretical and practical intersections between arts management and technology."
For more information visit www.amt-lab.org.
###