September 12, 2013
Press Release: Carnegie Mellon Appoints Marlene Behrmann New Co-Director of Center for the Neural Basis of Cognition
Contact: Shilo Rea / 412-268-6094 / shilo@cmu.edu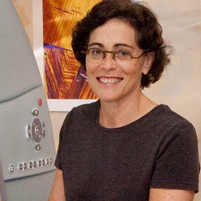 PITTSBURGH—Carnegie Mellon University has appointed Psychology Professor Marlene Behrmann co-director of the Center for the Neural Basis of Cognition (CNBC), effective Jan. 1, 2014. She succeeds Michael J. Tarr, who is stepping down to become head of CMU's Psychology Department.
The CNBC is a joint project between Carnegie Mellon and the University of Pittsburgh devoted to investigating the neural mechanisms that give rise to human cognitive abilities. The center integrates the strengths of the University of Pittsburgh in basic and clinical neuroscience with CMU's strengths in psychology, computer science, biological sciences and statistics, and sponsors an interdisciplinary graduate training program. Peter Strick, distinguished professor and chair of the Department of Neurobiology at Pitt, also co-directs the center.
"The CNBC is an innovative center for Carnegie Mellon, Pittsburgh and the field of cognitive neuroscience because its excellent and highly interdisciplinary research and outstanding educational programs focus on one of today's most perplexing challenges — mapping and understanding the human brain," said John Lehoczky, dean of the Dietrich College of Humanities and Social Sciences, which administers the CNBC for CMU. "Marlene Behrmann is a highly accomplished scientist, and with her leadership, vision and dedication, I know the CNBC will continue to make crucial discoveries that impact real-world problems."
Behrmann has been on the CMU faculty since 1993 and is widely considered to be one of the foremost experts in the cognitive neuroscience of visual perception. Her research combines behavioral investigations and brain imaging techniques with both normal and impaired individuals to identify the areas of the brain that are responsible for visual perception. For example, she explores how the brain quickly and seemingly effortlessly works to recognize different people by their face and how the brain differentiates between different objects.
Behrmann also uses brain imaging to uncover what is happening in the brains of individuals with developmental disorders, such as autism. Her work identified a weaker brain "sync" between the brain's two hemispheres in autistic children that could enable an autism diagnosis at a very young age. Also, by showing that autistic adults have unreliable sensory responses to visual, auditory and somatosensory stimuli, Behrmann took the first step toward deciphering the connection between general brain function and the emergent behavioral patterns in autism.
In 1999, Behrmann was recognized for her initial achievements with a Presidential Early Career Award in Science and Engineering.
The CNBC is one of the world's most renowned cognitive neuroscience centers and has helped to establish Pittsburgh as a leader in brain sciences.
"I am excited about Dr. Behrmann assuming the co-directorship of the CNBC," said Tarr, the George A. and Helen Dunham Cowan Professor of Cognitive Neuroscience at CMU and co-director of the CNBC since 2009. "She is a world-class scholar and wonderful community citizen who embodies the highly interdisciplinary character of the CNBC. Dr. Behrmann's leadership will help CNBC to maintain its preeminent role in the study of the brain and cognitive sciences for decades to come."
As co-director, Behrmann hopes to facilitate the growth of neuroscience at CMU by enhancing undergraduate and graduate education in this field and by seeding further collaborative projects between faculty that permit cutting-edge, cross-disciplinary research.
"I am thrilled to be working with Marlene. She is an outstanding scientist, a wonderful colleague and she has long been dedicated to the CNBC," said Pitt's Strick. "I am sorry that Mike is moving to another position, but he will be nearby and part of his heart and soul will remain at the center. Marlene was one of the founding members of the CNBC. I can't think of anyone that I would rather see as co-director. This is going to be exciting."
For more than 50 years, Carnegie Mellon researchers have been working to achieve historic breakthroughs in psychology and computational neuroscience to tackle multifaceted problems of human thought, such as how we solve problems, learn mathematics or make financial decisions, and how these thought processes can be improved. The CMU research also includes a major effort in using brain imaging to understand and treat disorders like autism and dyslexia. To build on its foundation of research excellence in psychology, neuroscience and computational science, CMU launched a Brain and Mind initiative to enhance the university's ability to innovate in both the laboratory and in the world.
For more information, visit http://www.psy.cmu.edu/people/behrmann.html.
###
Marlene Behrmann, pictured above, has been on the CMU faculty since 1993 and is widely considered to be one of the foremost experts in the cognitive neuroscience of visual perception.