October 10, 2013
Press Release: Carnegie Mellon Receives $5.65 Million Federal Grant To Help Make Driving and Roadways Safer
Award Will Support University Transportation Center
Contacts: Chriss Swaney / 412-268-5776 / swaney@andrew.cmu.edu
Byron Spice / 412-268-9068 / bspice@cmu.edu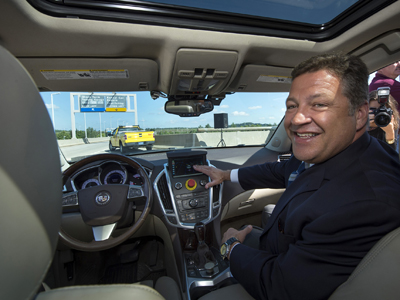 PITTSBURGH—There are about 10 million automobile and truck accidents in the U.S., one million injuries and 32,000 fatalities every year. Most of these accidents occur due to human error such as distracted driving. To help solve these safety woes, the U.S. Department of Transportation has awarded a $5.65 million grant to establish a national research center led by Carnegie Mellon University.
"This two-year grant for a national Department of Transportation (DOT) center will help us apply high-tech to make transportation systems smarter and reduce crashes," said Raj Rajkumar, center director and a professor of electrical and computer engineering at CMU. He also serves as co-director of two General Motors-CMU Collaborative Research labs.
Carnegie Mellon's team includes researchers from the University of Pennsylvania. The partnership between the universities will utilize information, communication and sensing technologies to enhance transportation safety, improve the efficiency of roadways and reduce travel time.
Carnegie Mellon President Subra Suresh praised the research teams for their innovative and pioneering work in developing technology to improve transportation safety and infrastructure efficiency. "This research is a wonderful example of the collaborative, multidisciplinary and community-oriented work so engrained in our culture of innovation," he said.
"The University Transportation Center (UTC) will focus on the extremely important problem of improving transportation safety by using vehicle-to-vehicle and vehicle-to-infrastructure communication technologies and sensing to provide valuable real-time information to vehicles and drivers," said James H. Garrett Jr., dean of the top-ranked CMU College of Engineering and the Thomas Lord Professor of Civil and Environmental Engineering. "The focus of this UTC is an excellent illustration of how we need to explore the ways in which technology can help make infrastructure systems more safe and efficient. At CMU, we have a number of significant research efforts related to various systems making up our nation's infrastructure, such as transportation networks, pipeline networks, the electric grid and buildings, where researchers from engineering, robotics, computer science, information systems and public policy collaborate to create innovative solutions."
"As a DOT Transportation Center, we will focus on both national and regional needs," said Dan Lee, co-director of T-SET and professor of electrical and computer engineering at the University of Pennsylvania's School of Engineering and Applied Science.
Ed Schlesinger, head of CMU's Department of Electrical and Computer Engineering, said the support provides an opportunity to advance research in the future of transportation and through that work to improve our daily lives as we make our critical infrastructure more robust, more safe and more efficient.
Already, CMU is leading the way with development of an autonomous car to help improve road safety. The university also is involved with development of a new adaptive traffic signal control technology, sponsored by the Traffic21 Initiative, which could ultimately reduce harmful vehicle emissions and long travel times through urban neighborhoods.
"This new grant will supplement the important groundbreaking work already underway on urban mobility and transportation at CMU. We continue to develop and deploy intelligent transportation technologies, and through the use of powerful analytic models and technologies derive actionable insights from multiple data sources such as social media and mobile sensor data. These breakthroughs will continue to generate innovative solutions to traffic congestion, reduce harmful vehicle emissions and save lives by improving safety," said Ramayya Krishnan, dean of the H. John Heinz III College at CMU.
Both CMU and Penn have engaged more than 40 public, private and nonprofit partners who are key to deploying the federally funded research technologies through pilot projects and commercialization. The consortium also contributes to the education of tomorrow's transportation leaders and for increased understanding of transportation infrastructure and policy challenges. The grant is matched in part by the Hillman Foundation of Pittsburgh.
Many members of Pennsylvania's Congressional Delegation wrote to the Department of Transportation in support of the competitive application for this recent award including: Senators Bob Casey and Pat Toomey, and Congressmen Mike Doyle, Mike Kelly and Keith Rothfus. Additionally, House Transportation and Infrastructure Committee Chairman Bill Shuster recently took a 33-mile ride in CMU's autonomous vehicle, highlighting one of the technologies supported by the award.
###
House Transportation and Infrastructure Committee Chairman Bill Shuster, pictured above, recently took a 33-mile ride in CMU's autonomous vehicle, one of the projects supported by the DOT award.