October 07, 2013
Press Release: Carnegie Mellon Honors John and Mary Lou Lehoczky With New Lecture Series
Steven Brams Opens the Series on Oct. 15 with "Game Theory and the Humanities"
Contact: Shilo Rea / 412-268-6094 / shilo@cmu.edu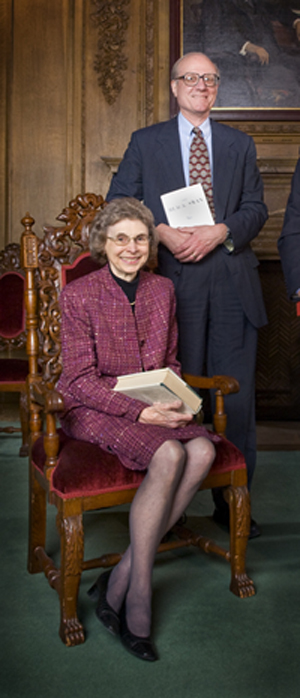 PITTSBURGH—Carnegie Mellon University is establishing a new lecture series to honor the many contributions of John Lehoczky, dean of the Dietrich College of Humanities and Social Sciences, and his wife, Mary Lou, who serves on the board of the Andrew Carnegie Society, a philanthropic group of dedicated alumni, parents and staff who annually support Carnegie Mellon.
The John and Mary Lou Lehoczky Lecture Series in the Humanities and Social Sciences will begin at 4:30 p.m., Tuesday, Oct. 15 in Doherty hall 1212 with New York University's Steven Brams and "Game Theory and the Humanities."
"As dean, John Lehoczky has supported, promoted and significantly elevated the profile and prestige of all of the Dietrich College's departments," said Linda A. Dickerson (DC'81), founder and principal of 501(c)(3)2 and member of the CMU Board of Trustees. "It is fitting to have a lecture series in his honor that reflects interdisciplinary teaching and research because both are hallmarks of his administration."
Lehoczky, the Thomas Lord University Professor of Statistics and Mathematical Sciences, became dean of what was then the College of Humanities and Social Sciences in 2000. Because he fully believed that strengthening the humanities departments was vital not only to the success of the college, but essential for Carnegie Mellon to realize its full potential, Lehoczky launched an ambitious Humanities Initiative. The initiative created the Humanities Scholars Program, the Humanities Center and the Center for the Arts in Society, which have all received permanent endowments.
"John and Mary Lou Lehoczky have selflessly served the Dietrich College for four decades," said Kiron Skinner, associate professor of social and decision sciences and director of the Center for International Relations and Politics who is behind the launch of the lecture series. "Among the numerous initiatives that Dean Lehoczky has overseen, academic programs such as the Humanities Scholars Program, the Quantitative Social Science Scholars Program and the Global Studies major bridge the social science and humanities offerings available within the college."
As dean, Lehoczky also worked to advance the college's brain science research and has been a strong advocate for developing CMU international programs, such as the CIRP. He helped the departments attract and retain world-class faculty and bolstered the college's pioneering role in cognitive science, decision sciences, philosophy and statistics.
Prior to becoming dean, Lehoczky served as head of the Department of Statistics from 1984-95 and helped build the undergraduate program into one of national prominence. In his research, Lehoczky studies stochastic processes and how they can be used to model real applications.
Lehoczky was honored in April 2013 with the university's Robert E. Doherty Award for Sustained Contributions to Excellence in Education.
"Both John and Mary Lou have been devoted citizens of the CMU community for many years," said Joseph E. Devine, associate dean of the Dietrich College.  "During his 43-year career at Carnegie Mellon, John has played a critical role in making his department, college and university a better place for both faculty and students. And, he has done this with selflessness and humility — always looking for the best way to serve, support and celebrate our students, faculty and institution."
Brams, professor of politics at NYU, has applied game theory and social-choice theory to voting and elections, bargaining and fairness, international relations and the Bible, theology and literature. His books include "Game Theory and the Humanities: Bridging Two Worlds," "Mathematics and Democracy: Designing Better Voting and Fair-Division Procedures" and "Theory of Moves."
The CIRP, Humanities Scholars Program, Quantitative Social Science Scholars Program and the Global Studies major are sponsoring Brams' talk, which is free and open to the public.
     
###
Pictured above are John and Mary Lou Lehoczky.